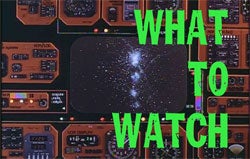 This week sees the end of Chuck (for now) and Life On Mars (for good). Can the U.S. launch of Torchwood season two compensate for the loss of those two shows? Your answer may reveal more about you than about television. Here's our guide to the week's television, including mild spoilers and trailers.
Tuesday at 9, there's the final episode of time-travel cop show Life On Mars on BBC America. Gene rushes to catch a notorious cop killer. Meanwhile, Morgan promises to Sam that after just "one more job" he can go home to 2006. It's the heart-stopping climax where we find out what's really been happening all this time.
Wednesday night... umm... League of Extraordinary Gentlemen is showing on FX. CMTV has Little Beauties, a child beauty pageant that really ought to be science fictional but isn't. Besides that... I dunno. get out of the house. Go bowling. Does your town still have a bowling alley? They're dying out, you know.
Thursday, the final two episodes of Chuck completed before the strike are airing. But not back-to-back. NBC couldn't possibly be that sensible. Instead, it's a "Chuck sandwich," with a new episode of Celebrity Apprentice smushed between two Chucks at 8 and 10 PM. Does NBC think there's some crossover audience that loves Chuck and is just waiting to discover Celebrity Apprentice? As for the plot of the two episodes... there's an evil spy, and we learn more about why Jayne from Firefly is so mean. (It's because he's Jayne from Firefly, duh.) Here's a trailer:
Also on Thursday at 8, there's a Smallville rerun.
Friday as usual, it's all about the Scifi Channel, the only channel that expects its core demographic to stay home on a Friday night. At 8, there's Flash Gordon, which sounds like a new peak of awesomeness for the series. For starters, the cold region of Mongo is called Frigia. And it has a queen, who I'm guessing wears frosty blue lipstick and a white spangly leotard. Flash has to rescue her, so he can fulfill the final step of the prophecy and become the savior of Mongo. Speaking of which, is anybody else tired of prophecies in science fiction?
Sunday, you're on your own. Unless you take the title of Scott Baio Is 46... And Pregnant literally, which would make it sci-fi-ish.