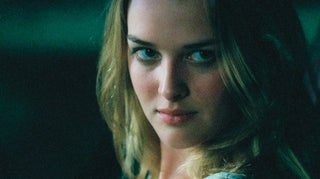 S
In the tradition of Claire from Heroes, and Buffy of vampire slayage, the main character in the movie Teeth has developed a special power that allows her to survive high school. Deep inside her vagina, Dawn has a set of shark's teeth that will bite off anything she doesn't want in there. This movie, opening in select theaters today, has gotten a lot of attention for daring to depict the dreaded vagina dentata - or pussy with teeth - as something other than yuck. Dawn's "adaptation," as she calls it, isn't just a grossout thrill. It's the perfect vehicle for expressing the emotional truth of teenage sexual awakening. (Spoilers and dick chomping ahead.)
Dawn's mutant puss is her only source of power in the small, conservative town where she lives beneath a nuclear power plant and goes to a school where concerned parents have put giant gold stickers over pictures of the female anatomy in her textbook. Active in her local church chastity club, where she gives passionate speeches about virginity being a "gift," Dawn is a sexual innocent. And sexually repressed.
Inevitably, when Dawn starts to fall off the virginity wagon she does it with a guy who turns out to be a jerk. Instead of the heavy petting she's ready for, he tries to go all the way. And when Dawn resists, he knocks her head against some rocks and proceeds to have his way with her. Luckily, her puss never sleeps and we get our first glimpse of the extremely graphic results of Dawn's evolutionary advantage.
Terrified by what's happened, Dawn proceeds to fuck and bite her way through a series of awful male stereotypes (the molesting gynecologist, the sleazy pickup artist), slowly growing more confident that her vadge is there to protect her rather than plague her. Throughout the gore and stump-squirting and animals-eating-severered-penises (oh yes, we go there), Teeth exudes a genuine sense of dark fun and emotional urgency. You might even consider the teeth Dawn's fantasy, a way of coping with her tragic family life and a world whose sexual messages are often violently contradictory.
Director Mitchell Lichtenstein (son of the cartoony pomo artist Ray) wants his film to be a satire, and it works that way, though his targets are sometimes too broad and easy. There's a simplistic Red States = bad, men = rapists message here that comes across as a bit tinny at times. But you can forgive the film its excesses for the same reasons you forgave the brilliant rape-revenge flick Freeway, or the sexy-horror of werewolf puberty movie Ginger Snaps. Teenage sexual awakenings, especially for girls, are full of blood and guts and fear. That's what Teeth reflects.
For anyone who appreciates gory social satire, and thinks of high school as living on the Hellmouth, Teeth is your freaky date movie this weekend. The film is also a sharp rejoinder to the cloying Juno, which for all its great acting and true heartwarmingness, still got it wrong by reducing the nervous terror-pleasure of teen sexuality to sexless mommyhood. Dawn may be a mutant, but she's a real girl. And we're lucky that Lichtenstein isn't afraid to show us in graphic detail what that means.