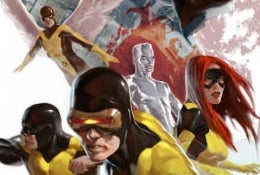 Next year sees the release of
X-Men Origins: Wolverine
and we already know that
X-Men Origins: Magneto
is in the works too. But is Fox also looking to reboot that X-Men franchise with a new movie that will introduce the first-ever students at Professor Xavier's School For Gifted Children? A couple of clues seem to be pointing in that direction.According to trade paper Production Weekly, 20th Century Fox is working on a movie called
X-Men: First Class
, and has registered the domain x-menfirstclass.com (which currently redirects back to Fox's own site).
X-Men: First Class
is currently the name of a flashback series of comics based on the original X-Men team, all of whom made it into the movie series in various guises (Cyclops and Jean Grey as part of the team from the start, with the Beast, Iceman and the Angel showing up in later episodes). Does this mean that Fox plans on rolling back the years to give us the movie version of the awkward school years of our favorite mutants? And, more importantly, does that mean that we finally know
the "prequel of sorts" X-Men project that Gossip Girl's Josh Schwartz was talking about back in May
?
Fox opening registration for First Class?
[Superhero Hype]