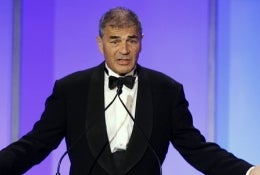 We've waited two years to meet him, and when the third season of NBC's
Heroes
premieres next month - yes, we are that close to new episodes of all our favorite shows, thankfully - our long wait will be over. But who will Robert Forster (veteran of
Karen Sisco
,
Justice League
and the short-lived
Spawn
cartoon) be playing when he joins the show? Answers and a spoiler when you click that "more" button.For everyone who's been hoping that one of the promised surprises in
Heroes: Villains
will be an appearance by Peter and Nathan's Papa Petrelli, then you're in luck - Forster will be playing Arthur Petrelli when he joins NBC's hit show. Does this mean that Arthur isn't as dead as he's been assumed for the last two seasons, or are we in for even more time-traveling craziness as we discover all of the secrets behind the Petrelli empire? This being
Heroes
, of course, it doesn't have to be an either/or scenario.
Exclusive: Robert Forster Joins 'Heroes' as (Spoiler Alert)!
[Entertainment Weekly]