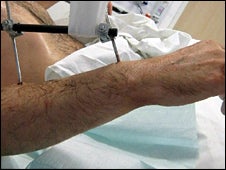 A 54-year-old German farmer who lost his arms in an accident six years ago has just received two new arms in the first double-arm transplant operation ever performed (pictured is one of his new arms). A team of German doctors spent 15 hours grafting two arms from a recently-deceased teen donor onto the man's shoulders. They connected all his tissues, including the extremely-difficult blood vessels. What remains now is for the man's nerves to grow until they form connections with the nerves in his new arms. That will allow him to take complete control of his transplanted limbs. Doctors estimate that nerves grow about 1 mm every day. The BBC reports: The patient cannot move his new arms . . . it could be two years before the patient can manipulate his new hands. Hans-Guenther Machens, director of hand and plastic surgery at the Klinikum rechts der Isar clinic, said: "The regeneration process will take a long time." UK transplant expert Nadey Hakim, head of the transplant unit at London's Hammersmith Hospital, said the higher up an amputation on the arms, the easier it was to connect new limbs, as there were fewer nerves and only one bone to connect. The man may never have proper sensation in his arms and hands, even if he is able to move them. Though it is easier to connect new limbs the higher the amputation is, the opposite is true for establishing sensation. The higher the amputation, the less likely it is that a transplant recipient will feel anything in his or her hands.
Several successful hand transplants have been performed over the past 7 years
, and their recipients can control their hands and experience hot and cold sensations.
Farmer Has Double Arm Transplant
[via BBC News]