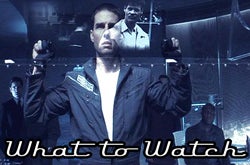 Doctor Who
is over and
Stargate Atlantis
is taking a little break, but luckily
another
British time-travel show hits our screens this weekend. In
Primeval
, scientists discover a rift in time in space that's letting prehistoric monsters rampage throughout the English countryside. Otherwise, it looks like we're in a slow period until the big fall scifi premieres, which spells only one thing: TV marathon madness. There's a
Who
marathon, plus a ton of
Monster Quest
episodes. Plus there are new
Middleman
and
Eureka
episodes, and the cable networks take a break from the usual
Predator
fest to bring us the awesomeness of
Reign Of Fire
.
Monday
It's not too late to ditch work and sit through the
Threshold
marathon all day today on the Sci Fi Channel. Who needs paperwork when you have sexy Carla Gugino and her incredible brain to save the world from a crashed alien spaceship? Go Red Team!
The Middleman
is back, showing M.M. fighting injustice and helping his twenty-something sidekick Wendy sort out her crazy life. In this episode, Wendy goes undercover as a sorority sister to investigate a haunted sorority house, which spells pillow fight!
The Middleman
airs at 10 PM on ABC Family. Casper Van Dien (or, as I will always know him, Johnny Rico) will be on
Chelsea Lately
on E! with the rest of the
Starship Troopers 3: Marauder
cast at 4 PM. The Japanese shōnen mecha anime
Gurren Lagann
, about an underground future society, is on twice on Monday once at 11 and again at 11:30 PM on the Sci Fi Channel. A sad and scruffy retired cop becomes a crusader against fascism in an alternate future. New episodes of the scifi cop drama
Charlie Jade
air on 3 AM on the Sci Fi channel.
Movies:
In
Reign Of Fire
, sad humans fight dragons with the help of Christian Bale, pre-Batman voice, and Matthew McConaughey, tonight at 12:30 AM on TBS. Plus, you can
almost
get to the Moon by watching
Apollo 13
at 2:30 on AMC.
Deep Impact
, the armageddon movie that time forgot, is on soon after the dragon hotness, at 2:30 AM on TBS. And lastly, who needs
Star Wars
when you can watch a spoof instead? ABC Family is airing
Spaceballs
tonight at 8 PM.
Tuesday
There's an all day
Monster Quest
marathon on the History Channel starting at 8 AM.
Nova
will bring us another inside look at "Cars Of The Future" at 12:30 AM on PBS. An all new
Eureka
is coming your way on Tuesday night. The second episode of the new season is adorably called "What About Bob." Follow the sheriff as he hunts down Global Dynamics' own Creature from the Black Lagoon.
Eureka
airs 9 PM on the Sci Fi Channel.
Wednesday
Eliza Dushku will be on Jimmy Kimmel Live on ABC at 12 AM, and hopefully she'll spill some
Dollhouse
dirt. The History Channel will delve into the infamous 70s UFO sightings for you, in
UFO Files: UFOs of the 70s
at 11 PM. Turns out the 1970s were the most active period of UFO sightings ever. (Who knew?)
Movies:
Wrong Turn
is on Fox FX at 10 AM, in case you haven't gotten enough Eliza Dushku on Jimmy Kimmel. Watch her get lost in the woods and discover a sinister secret: the people in the mountains have mutated into crazy cannibals, and Eliza's on the menu.
Friday
From 8 AM to 4 PM, the Sci Fi Channel is running a marathon of
Doctor Who
in case you need to catch up on the tail end of season two.
Movies:
Follow Tom Cruise as he tries to save his ungrateful kids from attacking aliens in
War Of The Worlds
8:30 on ABC 10:30 AM. Hang out with Big Red in the first
Hellboy
at 8 PM on Fox. Escape from a boring Friday night with Snake Plissken, in
Escape From New York
at 11:30 on AMC.
Batman Begins
is on at 8 PM (and many other times throughout the night) on Sci Fi.
Saturday
Find out why almost all the aliens we hear about are little gray men with big heads, in the
UFO Files: New UFO Revelations: the Grays' Agenda
, at 10 AM on the History Channel. The space and time continuum opens up for another monster series
Primeval
. Follow the zoologist Professor Nick Cutter as he searches for his missing wife and tries to wrangle the occasional monster that steps out of the show's space and time rift. The creepy creature show is in its third season on the BBC, and the first season premieres on BBC America at 9 PM.
Movies:
Out Of Time
airs at 4:30 PM on TNT. And there are back-to-back Flubber movies on TCM. Follow the original
Absent Minded Professor
as he discovers flubber, at 9 AM. Then follow up with
The Son of Flubber
at 10:45 AM.
Sunday
If you're up early (or late) feast your eyes on
Ghost In the Shell
at 4 AM on Adult Swim. Plus, the
Venture Brothers
will have a new episode for fans on Sunday at 11 PM at Adult Swim.