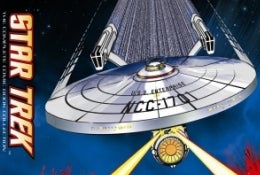 Just in time for those of us making very early holiday gift lists, TrekMovie has news of the ideal present for the comic-book-reading
Star Trek
fan in your life. Especially if that happens to be yourself: A DVD compilation spanning 35 years (and five publishers) of four-color voyages called
Star Trek The Complete Comic Book Collection
.Produced by GITCorp, the DVD will include PDF versions of more than 500 different
Star Trek
comics from Gold Key's original 1967 series all the way through to DC/Wildstorm's early 21-century efforts (IDW and Tokyopop's more recent series won't be included, but are still in print for you to read the old-fashioned way):
Each issue is being scanned by the company, cover to cover, including all of the advertising, and stored in individual PDF archives. GITCorp is using an interface similar to their prior DVD comic collections to access the PDFs in the collection. The DVDs can be used on both Windows and Macintosh computers. Putting together a collection spanning four decades has not been an easy task, especially due to the fact that Trek comics have been produced by so many different publishers over the years. According to Ray Pelosi from GITCorp, it has been a daunting to get all the comics and to sort out all the licensing issues required to bring it to market and he thanks CBS Products for all the help they provided to make it all happen.
As someone who still has a deep and abiding love for Peter David's run on the DC series in the early '90s, the idea of being able to re-read all of those issues (and try and get past by fear of Pablo Marcos' art on the
Next Generation
series of the same period) for $50 is more than a little tempting, I have to admit. Is it too late for me to start believing in Santa again?
TrekInk: First Look At Star Trek: The Complete Comic Book Collection DVD
[TrekMovie]