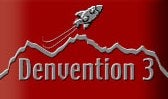 At WorldCon, where SF literary reputations are made and writers jockey for attention, there are always standouts. You know, a few people and publishers who seem to be on everybody's minds — or who should be. We've got six bookish breakouts we brought back from Denver for you, below.
Publisher set to ignite: Pyr Books
With authors like critically-acclaimed Ian "Brasyl" McDonald on board, and more cool books on the way, Pyr is becoming the scifi indie publisher to watch. Attendees of WorldCon clearly thought so too. The Pyr party was packed with celebs and fans alike, and not just because of the tasty mojitos.
Authors set to conquer: David Marusek and Paolo Bacigalupi
Marusek's first novel,
Counting Heads
, won critical acclaim
inside the world of scifi and beyond
. The sequel,
Mind Over Ship
, is coming out in January — but reviewers are already reading galleys and getting excited over this tale about the construction of generation ships on a future Earth where the middle class has disappeared. Meanwhile, Bacigalupi has already won a ton of fans for his short fiction collection
Pump Six
— but now we're amped for his first novel, a YA adventure that involves ultra-fast sailboats in a peak oil world, plus pirates of the Arctic!
The editor every writer wants: Liz Gorinsky of Tor
She organized a roller derby outing at WorldCon, she edited Jeff VanderMeer's excellent novella
Shriek
, and she has impeccable taste in writing. We're waiting to see if Gorinsky is going to discover the next Ursula Le Guin.
Writer on the verge: Mary Robinette Kowal
Winner of the Campbell Award for best new writer, Kowal has over a dozen acclaimed short stories under her belt. She may be a successful professional puppeteer, but we'd like to see her pulling the strings on a novel or two as well.
Comeback kid: Amy Thomson
Author of the amazing novels
Virtual Girl
and
The Color of Distance
, Thomson is poised to grab the attention of new readers with her recently-finished novel
Nomad
. Blending hard scifi with a medieval setting that feels almost like fantasy, the novel takes place among people on a planet whose culture resembles that of ancient Mongolia. Thomson spent time in Mongolia to do research, and promises a tale that involves a lot of awesome horse-riding action. With people riveted by the movie
Mongol
in theaters (not to mention all the horsey enthusiasm generated by
Seabiscuit
), this could be the novel that puts Thomson back on the map.