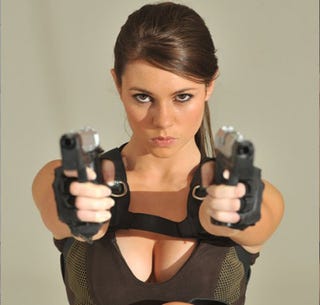 Say hello to our new Tomb Raider. Alison Carroll is a former gymnast from Croydon, which means this 23-year-old is a super bendy bad-ass. Click through for a whole mess of pictures of our new shorty-short hero kicking and punching and doing other video gamey things. Seeing pics of this lady kicking in her monster boots makes me wonder which video game vixen would win in a fight,
Resident Evil
Alice or Lara? As a bonus, Carroll will even role play Lara Croft on chat shows and will be making live appearances as the tumbling Croft. The new
Tomb Raider Underworld
video game hits stores November 21, 2008.
[
Kotaku
]