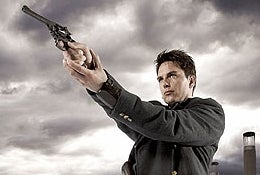 Always looking to increase the profile of his show, John Barrowman has come up with a suggestion for a brand new line of
Torchwood
accessories. The only problem being, they may not really fit in with the "being promoted to BBC One and gaining a wider audience" agenda that the program makers may have for the
Doctor Who
spin-off... unless "sex toy spin-off" was always part of the plan.Talking about the fact that
Torchwood
's nighttime slot in the UK has cut down on potential merchandising for the show, Barrowman said,
We can't make Torchwood toys. We can't market to children because it's an adult show. Maybe we could do Torchwood sex toys. I will suggest it.
I would love to see the conversation if he ever did suggest it, if only to time how quickly the idea of the publicly-funded BBC licensing a line of sex toys based on a spin-off from their top-rated family-friendly show gets shot down in flames. I give it ten minutes, tops.
Barrowman wants 'Torchwood' sex toys
[Digital Spy]