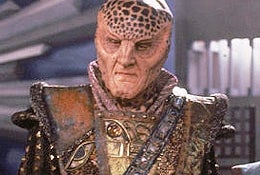 With the recent announcement that two of our favorite TV shows -
Firefly
and
Babylon 5
- have been added to the upcoming launch of new online VOD channel TheWB.com, we're wondering whether we're nearing the day that we're never going to have to get out of our comfortable chair and put down the laptop ever again.While streaming TV online isn't exactly a new idea - we've been using
Hulu.com
as our procrastination tool of choice ever since they added
Galactica 1980
to their line-up - what differentiates TheWB.com isn't just their io9-friendly selection of shows (As well as the two listed above, you'll also be able to find episodes of
Angel
,
Buffy The Vampire Slayer
,
Roswell
,
Smallville
and non-geek-but-awesome-nonetheless shows like
Veronica Mars
,
Gilmore Girls
and
The OC
, amongst others) but the fact that the channel will also be offering brand new series from creators like
Terminator: Salvation
's McG and
Chuck
's Josh Schwartz alongside their more familiar offerings. Sure, the
announced new shows
don't sound that promising so far (Although we're looking forward to
Chadam
), but if the first batch do well, then we're hoping to see some more SF in future seasons. Until then, we'll be keeping ourselves occupied by looking for signs of Ron Moore's
Battlestar Galactica
greatness in his
Roswell
episodes.
TheWB.com adds six to online offerings
[Hollywood Reporter]