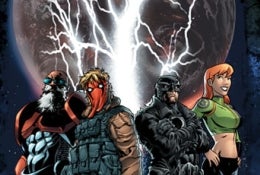 Superheroes, as we all know, exist to save the day. It's what they do - Swoop down from on high, solve the problems and swoop back on out again. But what happens when they not only don't save the day, but play an active part in the destruction of the world? That's the basis for the latest relaunch of DC Comics' Wildstorm line, entitled
World's End
.Following three Biblically-titled series (
Armageddon
,
Revelations
and
Number Of The Beast
), the Earth has been knocked off its axis, London has been destroyed by a crashed spaceship, and entire cities have been flooded and left unhabitible, all thanks to a battle between superhumans that didn't really go as well as could be expected. Wildstorm editor Ben Abernathy
explained the thinking behind permanently changing the status quo of this particular superhero universe
:
Looking at the landscape of the industry, we realized we needed to move our universe in a different direction, something that the "Big Two" couldn't, or wouldn't, do for a long period of time. And we decided that direction should be toward a sci-fi/horror direction of a post-apocalyptic setting (to a degree, an almost logical extension to where the [Wildstorm Universe] has been headed for years). There have been "visions" of a devastated, bleak future in other mainstream super-hero books, but nothing with the lasting impact or direction that the World's End books will be tackling.
The
World's End
setting definitely isn't a cosmetic change for the line; former fan-favorite books have been relaunched with significant changes, including depowering (and deforming) half of
The Authority
before stranding them in an electricity-less radioactive former London and placing the
Wildcats
in charge of the sole refugees of a dying New York City.

This isn't the first time that the Wildstorm line has gone all out for change; in 2003, their
Coup D'Tat
series had the Authority depose the US Government and set themselves up as dictators of the United States, before they realized that they couldn't be bothered with all the paperwork. But with fans still hurting about 2006's failed
Worldstorm
relaunch (which died when Grant Morrison's core two series
Wildcats
and
The Authority
disappeared after one and two issues, respectively), will even the end of the world get them interested in checking out the series again? Possibly not - comic fans are a notoriously fickle bunch, and I say that as one of the more fickle - but they should; although the lead-ins vary wildly in quality (
Armageddon
is fairly avoidable, and
Revelations
could've been half the length;
Number Of The Beast
, though again overlong, is very enjoyable, however), the
World's End
relaunch works.With this shift, the books have not only become far less of the generic superhero titles that they used to be, they also move outside of the superhero genre in general, having more in common with movies like
I Am Legend
and
28 Days Later
, and it finally gives them an identity that isn't just "Superheroes who are a little bit more violent than the more famous ones," and watching characters who are more than slightly responsible for the end of the world as we know it having to be responsible for trying to rebuild society - while dealing with their guilt is, if nothing else, different from the traditional superhero angst. I'm not sure about the longterm prospects of the project - and hope that there's no deus ex machina planned, even though they've already partially set one up at the end of
Number of The Beast
- but for now,
World's End
is doing something that very few superhero comics can do: Showing what happens when everything goes wrong and no-one can save the day anymore.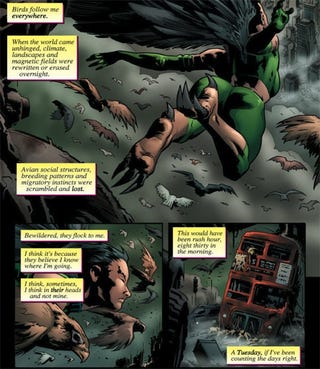 Wildstorm: World's End
[DC Comics]