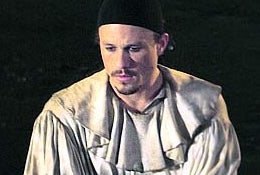 Heath Ledger's death gave
The Dark Knight
some buzz, though for tragic reasons. But the makers of Ledger's final movie, Terry Gilliam's
The Imaginarium of Doctor Parnassus
, are concerned that even rumors of an Oscar nomination for the deceased actor can't help their movie find a US distributor.According to
The Hollywood Reporter
, potential distributors drawn in by the publicity aspect of releasing Ledger's last film quickly find themselves pushed away again by Gilliam's involvement. The director, famous for scifi great
Brazil
, hasn't had a successful movie since 1995's
Twelve Monkeys
. One distributor is quoted as saying, "In this market, unless I have a reason to think a movie like this is going to be a slam dunk I'm not going to take a flyer on it, even with Heath Ledger."
The Imaginarium of Doctor Parnassus
involves parallel worlds, regeneration and deals with the devil — and Ledger's role in the movie will likely be taken over by Johnny Depp, Colin Farrell and Jude Law. But even that isn't enough to guarantee the movie a deal, apparently:
The prospect of getting involved with three marketable stars makes for a relative bargain for a buyer, who might pay low-seven figures for domestic rights but get an eight-figure level of promotable talent. But even that troika might not be enough. Said one longtime distribution guru: "For all the elements in this film, it is a Terry Gilliam picture, and as much as you want a movie of his to be good, you have to be careful."
Heath Ledger's final movie a tough sell
[Hollywood Reporter]