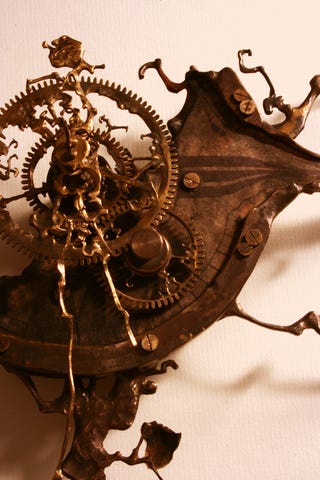 Beautiful and functional: Those are two words that come to mind when considering any great steampunk creation, and the work of Eric Freitas is no exception. This Michigan-based horologist has handcrafted some of the most amazing mechanical and quartz clocks in the world, and that happens to be why
Tor.com chose him as a gallery artist
a few days ago. Whether there's
something wrong with the steampunk movement
or not, this bit of bright brass gear-windery will probably turn you on.Freitas's website describes his vision, and though that sounds quite impressive enough, the actual art pieces are even better: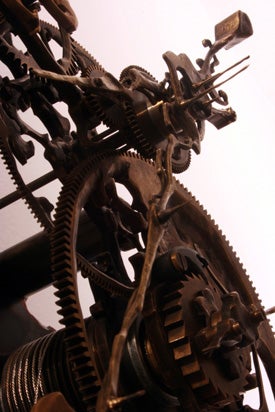 Growing relentlessly in the mind of Eric Freitas lies a realm of dark mechanical curiosities and horological contradictions. In this world gears are harvested and mechanisms are alive with the organic repetitions of nature's machine.
Freitas came to the world of steampunk clockmaking in 2004, after earning a BFA from the College of Creative Studies in Detroit, MI. Though he used commercial motors for his very first pieces, he decided soon after that to start making all of his timepieces from scratch — right down to the very last gear tooth. His attention to detail shows; these badass pieces of twisted metal are the result of both brilliant ideas
and
meticulous planning. That's why it's also such a delight to check out his initial drawings.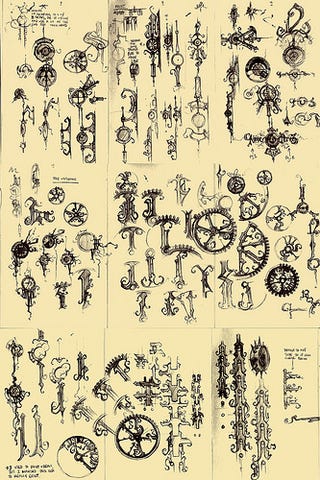 Both his sketches and photos of his finished work can be found at his website.
Ericfreitas.com
,
Eric Freitas
[Tor.com]