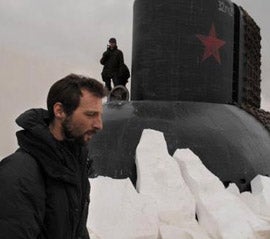 French director Mathieu Kassovitz, who cradled and loved his
Babylon AD
project for 5 years, is mad as hell at Fox. Citing terrible management, budget shenanigans, bad producers and partners, Kassovitz says making the futuristic tale starring Vin Diesel was a hideous ordeal. What went so wrong with
Babylon AD
that its own director and star call it "terrible"? In the film, Vin Diesel plays Toorop, an ex-mercenary who is getting paid to transport an important girl from one end of the globe to another, while dodging enemy fire and hiding from the oppressive government. But according to Kassovitz, it should have been so much more. He worked on a project whose main point was to focus on refugee trafficking in a gritty tomorrow, as well as political issues like censorship and a declining educational system. Instead, Kassovitz told AMC's Scifi Scanner:
"It's pure violence and stupidity," he admits. "The movie is supposed to teach us that the education of our children will mean the future of our planet. All the action scenes had a goal: They were supposed to be driven by either a metaphysical point of view or experience for the characters... instead parts of the movie are like a bad episode of 24."
Kassovitz places the blame for
Babylon AD
squarely on the studio.
"Fox was sending lawyers who were only looking at all the commas and the dots," he says. "They made everything difficult from A to Z."
And now it's been revealed that Fox carelessly hacked away a large bulk of the plot in the editing room — about 15 minutes, but still enough to make Diesel joke that his entire performance is on the cutting room floor. Still Kassovitz did say that there are a few moments where he is pleased with the end result. Though he was quick to add that he didn't think anybody would prefer his film over
Batman
. [
AMC Scifi Scanner
]