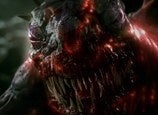 When will we get to see the Viking clan face battle with the evil alien creature with the big scary teeth? New rumors are suggesting that
Outlander
, may be released in the United States only on DVD. Which is a dreadful injustice. Despite a few negative early reviews,
Outlander
deserves a wide-screen release, followed by an after party of pillaging. The
Outlander
site denies any DVD talk but mentions a rather "small" theatrical release. Which usually means 15 screens, then the movie gets dumped to DVD. This would be a terrible idea, but this is what they say:
We'd like to reiterate that Outlander is *not* going direct to DVD. The nearest we can tell, no date has actually been set for the DVD release, so the Amazon listing is possibly spurious. Though they are taking preorders, don't expect to see the DVD come November 18th. And again, The Weinstein Company is contractually obligated to give Outlander a theatrical release. We don't yet know to what extent they'll do so (hopefully not on the level of Death Defying Acts), but we're hoping the reactions out of the fantasty filmfest spur them to action in this matter.
Would you buy the
Outlander
DVD? Or drive 100 miles to see it in the theater? [
Outlander Solesector
]