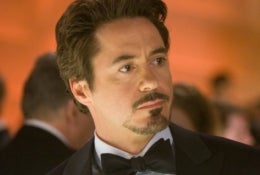 Iron Man
star Robert Downey Jr. is staying with the superhero genre that's given him his big comeback with potential upcoming project
Master Mind
. It's a new animated movie being produced by his
Tropic Thunder
co-star (and scriptwriter,
and
director) Ben Stiller. But this time, he may be playing the part of the bad guy . . . or, at least, suicidally-repentant former bad guy.The future Dreamworks movie, written by first-time screenwriters Alan Schoolcraft and Brent Simons, centers on a supervillain who decides that life has lost its meaning after he accidentally kills his nemesis in the middle of an epic clash. The somewhat-
Venture Bros
-esque concept will be directed by
First Flight
directors (and
Shark Tale
survivors) Cameron Hood and Kyle Jefferson, and may also star
30 Rock
's Tina Fey. Weighing up the potential voice talent and subject matter against the prospect of Dreamworks Animation's track record, it's safe to say that, as long as the result is more
Kung Fu Panda
and less
Over The Hedge
, we're cautiously looking forward to the finished movie.
Robert Downey Jr. in talks for DreamWorks Animation project
[Entertainment Weekly]