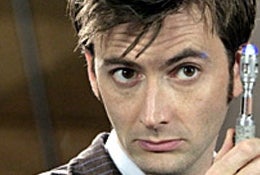 Okay, so we may not have believed those rumors about
Doctor Who
specials taking place in America with an American cast and crew when we
first heard about them
, but that was before news came that the BBC is moving to America... with some very
Who
-friendly faces in charge.News broke yesterday that the BBC is looking to set up a new US division in Los Angeles next year, headed up by Jane Tranter, the woman responsible for making sure that shows like the revamped
Doctor Who
,
Life on Mars
and
Spooks: Code 9
made it to screens in the first place. According to those in the know, the division - to be called BBC Worldwide West Coast - would concentrate on development and production of shows not only for the BBC, but also for US and international television. Rumored to be joining Tranter in the new offices is another familiar name,
Doctor Who
executive producer and current head of drama at BBC Wales, Julie Gardner. Suddenly you have to start wondering whether Gardner's trip to Comic-Con last month was less promotion and more a scouting trip to see whether or not she'd enjoy the weather. While none of the above has been confirmed by the BBC - who, instead, are firmly "no comment"ing the story away - this can't be taken as any real confirmation about the American
Who
rumors. But still: With two such
Who
-heads involved in the setting up of the division, it
would
make sense to launch it with a special episode or two of one of the BBC's biggest hits in years, wouldn't it?
BBC Exec prepping drama unit in US
[Hollywood Reporter]