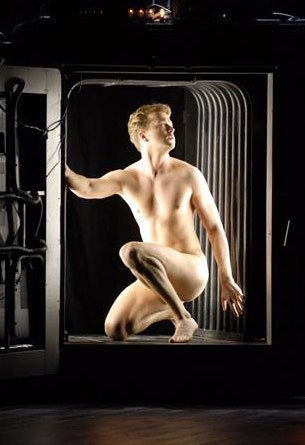 Sure you can see Paris Hilton
getting her face
slashed in forthcoming movie
Repo: The Genetic Opera
, but this month in David Cronenberg's fiendishly seductive opera adaptation of his 1980s gorefest
The Fly
, you can see a naked man go transgenic and turn his entire body into an experiment in human-insect genetic hybridization. Plus, the naked transgenic guy will actually be singing
real
opera. With a real orchestra conducted by Los Angeles Opera director Placido Domingo. The kicker? Cronenberg himself has directed this opera production, which retells the story of teleportation expert Seth Brundle's tragic love affair with a human woman and a stray fly whose genetic material is fused with his own.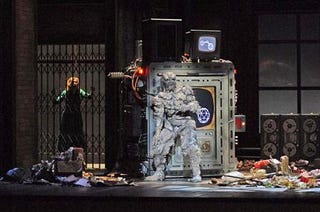 According to Reuters, Cronerberg has said that the opera version of The Fly isn't a straight remake of the movie — so opera-goers can expect some surprises. Reuters continues:
Movies have rarely made the transition to the world of opera, but Cronenberg said the basic plot of "The Fly" had the elements of love story, retribution and transformation common to many operas that made it ideal for a stage treatment.
If this opera version of
The Fly
goes well, I'm hoping for an adaptation of
2001
for the opera hall. Call it a space opera opera.
The Fly
opens this month at the
Los Angeles Opera
.
The Fly Gets Opera Treatment
[Reuters]