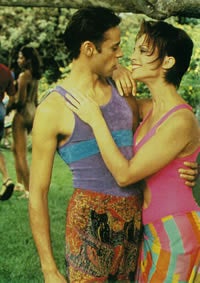 Star Trek: The Experience closed earlier this week, meaning that Las Vegas will no longer serve as the destination for those looking to survive a Borg attack or enjoy a Risa Colada at Quark's Bar. And, unless you've got $20 million to drop on a ticket, actual space tourism remains off the table. But fear not, we've got a host of suggestions for your next science or science fiction-themed vacation that are right here on Earth.
San Clemente UFO Trail:
If you are looking for a chance extraterrestrial encounter, journey down to Chile, where the town of San Clemente has
just opened its UFO trail
. The town is rumored to be a hotbed of alien activity, with hundreds of UFO sightings on record. Although the tour can't guarantee that your visit will result in a close encounter, you will get to see El Enladrillado, the alleged landing pad for alien spacecraft.
Atomic Tourism:
Sadly, the promise of atomic monster men isn't even hinted at, but atomic tourism will take you to the great sites of the nuclear age. Plan trips to Trinity Site, where the first atomic bomb was detonated, the congressional bunker in the Greenbrier luxury resort, or Three Mile Island.
Star Trek: The Exhibition:
If you're still mourning the loss of Star Trek: The Experience, then perhaps
Star Trek: The Exhibition
will brighten your day. Formerly Star Trek: The Tour, the exhibition features Trek-themed flight simulators, recreations of the interior sets of the Enterprise, and props and costumes from the various series. After suffering financial issues earlier this year, the tour relaunched in June at the San Diego Air & Space Museum. Unfortunately for those who like to plan in advance, Star Trek: The Schedule hasn't yet listed the exhibition's future destinations.
Doctor Who Tours:
Star Trek
is hardly the only franchise worthy of a vacation destination. Visitors to the Welsh capital of Cardiff can book a
Doctor Who package
at the Park Plaza, which includes a night's stay at the hotel, a city map featuring locations from various episodes, admission to the prop-filled
Doctor Who Up-Close Exhibition
, and a remote-controlled Dalek in the room to keep you in your place. Or you could forego the Dalek and do the tours a la carte.
Space Camp:
As Tony Hale's character in
Stranger Than Fiction
says, "You're never too old to go to
Space Camp
." And, for the wannabe space tourist on a budget, the adult Space Academy programs in Huntsville, Alabama might be your best bet. Granted you experience weightlessness in a SCUBA tank rather than in orbit, but for a few days you can at least pretend you're in training to fly the shuttle.
Mauna Kea Observatory:
You can watch shuttles take off from the Kennedy Space Center in Florida or imagine that you're James Bond at Puerto Rico's Arecibo Observatory, but some of the best stargazing in the world is said to be at
Mauna Kea Observatory
on Hawai'i Island. Although you can't look through the research telescopes at the region's summit, you can explore the cosmos with portable telescopes, provided you're willing to make the trek up the treacherous access road.
Alpine Astrovillage Lue-Stailas:
For a more leisurely approach to staring at the heavens, head to the Swiss Alps and stay at
AAV Lue-Stailas
. At the astrophotography-center-cum-Alpine-retreat, you can photograph faraway galaxies after a full day of skiing and siteseeing. The Astrovillage, which opens for business in 2009, allows visitors to use its professional imaging equipment to snap photos from its fully motorized viewing domes.
Science Fiction Museum and Hall of Fame:
Exhibits at
Seattle's Science Fiction Museum
, have included costumes and artwork from and influenced by works of science fiction, as well as permanent exhibits exploring the building blocks of sci-fi, the concept of the Other, and how the choices we make today affect the future. The museum shares real estate with the Experience Music Project, and plays host to the Science Fiction Hall of Fame and an annual Science Fiction and Fantasy Short Film Festival.
Maison d'Ailleurs:
Another Swiss entry, this "
House of Elsewhere
," describes itself as a "Museum of science fiction, utopia and extraordinary journeys." Its recent exhibits have focused on North Pole expeditions, organic architecture, and art inspired by HP Lovecraft.
Space Center Houston:
The world is filled with tech museums and, of course, the free-admission National Air and Space Museum, but the
Space Center Houston
is an official part of NASA. Come for the educational life-in-space exhibits, or just check out the incredibly large
collection of Star Wars paraphernalia
.
Tomorrowland:
Yes, the Tomorrowland has had notorious problems updating its attractions to keep up with changing visions of the future. But at least the Magic Kindom's version has surrendered to its now retro-futurist roots, even featuring the Carousel of Progress from the 1964 World's Fair, one of Disney's oldest attractions. If you want something shiny and newer, you can always hit the Tomorrowlands of Tokyo, Paris, and Hong Kong.
Tunisia:
When deciding where to film scenes set on Luke Skywalker's home planet of Tatooine, George Lucas chose Tunisia because it had a "beautiful countryside, unique architecture and a very high level of technical sophistication." And the
area today
is much as it was when Lucas filmed it. Stay in Luke's home, now the Sidi Driss Hotel in Matmata, trace R2-D2 and C-3PO's journey through La Grande Dune, wander the streets of Mod Eisley, and stand at the site where Qui-Gon Jinn battled Darth Maul.
Akihabara:
Tokyo's electronics district is the much-touted mecca of the game and anime-obsessed otaku. Visit the
Tokyo Anime Center
for screenings, demonstrations, and exclusive items for purchase. And to see cosplayers in their full costumed glory, stroll through Chuo-dori on a Sunday afternoon.
CERN:
Been drooling over the
Large Hadron Collider
? You can check out a mock-up at
CERN
's Microcosm science center in Geneva and learn about the latest in particle physics. Temporary exhibits are housed in the planet-shaped Globe of Science and Innovation.
Evolution Emanation Cruise:
In February 2009, Scientific American is shipping out with educational cruise company Insight Cruises for the
Evolution Emanation Cruise
. Travel from Fort Lauderdale to the Panama Canal while attending seminars on natural selection, genetics, and the future of life on this planet and elsewhere.
Galacticruise:
If you're an original
Battlestar Galactica
fan and you have time off next week, consider hopping aboard the
Galacticruise
. Celebrating thirty years of BSG, the five-day floating convention will host actors from the original show, including series-straddling Richard Hatch.
Vulcan, Alberta:
Much like the city of
Metropolis, Illinois
,
Vulcan
has capitalized on its association with an alien among us. The self-professed home of Spock, the Canadian town has embraced all things
Trek
. Visitors are greeted by a captain and crew, and the town's most prominent feature is a giant model starship mounted near the main entrance. And each summer it hosts Galaxyfest, its very own convention. It may not be Vegas, but Vulcan seems dedicated to keeping its Star Trek experience alive.