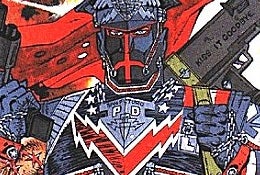 In a world filled with super-heroes, only one man stands against authority figures abusing their power in ways that we can't even imagine: Barack Oba - No, wait, I mean
Marshal Law
. That's right, the anti-hero from the 1980s with the fetish for zippers and the need to kill super-heroes is back just when we needed him the most.The character - co-created by
Judge Dredd
creator Pat Mills and io9 favorite and
League of Extraordinary Gentlemen
co-creator Kevin O'Neill - first made his appearance in a 1987 mini-series from Marvel Comics' Epic imprint, simultaneously riding the wave and bucking the trend of the concept of "adult superheroes" ushered in by the success of
Watchmen
and
The Dark Knight Returns
with its mix of sex, dark humor, over-the-top violence and superhero-murdering anti-hero. Now, after years in limbo, he's back in a new prose book by Mills (with spot illustrations by O'Neill),
Marshal Law: Origins
. Comic Book Resources has the scoop, and a preview:
Marshal Law: Origins (Titan Books) is a brand new volume collecting two scorching stories from the Law canon in illustrated novel format. In Cloak of Evil one of San Futuro's leading sex queen hostesses turn up dead in what appears to be a bizarre suicide, and it seems clear that there is more to this insidious situation than meets the eye. It's time for Marshal Law to once more don his black leather and barbed wire — and dish out the pain! Also featuring the classic Day of the Dead, collected with a new introduction from Pat Mills and previously unseen artwork by award-winning artist O'Neill, this is the perfect way to get to grips with the vigilante super-anti-hero!

And this is just the start of the return of the Law - indie publisher Top Shelf Comics is also reportedly working on a compendium of all of the character's comic appearances to date for release soon. That said, we're holding out for the inevitable movie. After all, what else would work as a palate cleanser after next year's
Watchmen
movie?
Marshall Law: Origins Preview
[Comic Book Resources]