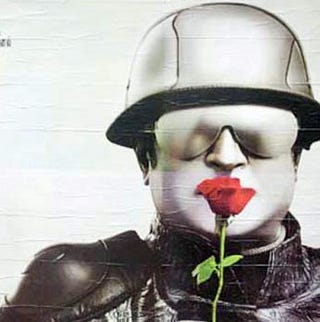 Were you let down by
Love Story 2050
? Don't give up on Indian science fiction yet - the lavish production
Robot
is finally starting filming, after a year of
behind-the-scenes
drama
. Now known as
Enthiram
, the movie is starting filming in the U.S. and Peru, and it's released its first image (which admittedly reminds us a bit of Woody Allen's
Sleeper
.) The best news? The film has recruited a crazy wealth of Hollywood talent behind the scenes. Yuen Wo-Ping, who did the stunts for
The Matrix, Kill Bill
and
Crouching Tiger, Hidden Dragon
will mastermind the movie's action sequences. Costume designer Mary E. Vogt, who worked on
Batman Returns
and
Men In Black
, will design the "futuristic suits" people will wear, but Manish Malhotra will design the regular everyday outfits of the movie's future people. Stan Winston Studios will design the movie's animatronics, and VFX houses like ILM and Tippet will do the movie's visual effects.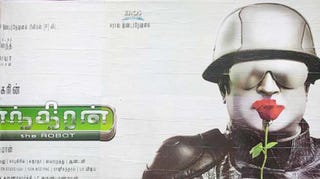 I love that the announcement says "one song" will be filmed at Machu Picchu in Peru, while director Shankar and star Rajnikanth are filming two songs in the U.S. It's just something about the idea of filming songs instead of scenes that is so awesome. By the way, apparently Enthiram is a "
Kollywood
" movie instead of a Bollywood film, because it's being filmed in Tamil.
Additional reporting by Lauren Davis.
[
Galatta
and