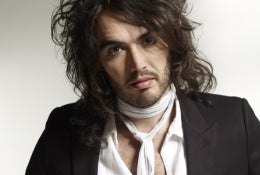 Fresh off his... controversial appearance at this weekend's MTV Video Music Awards, British comedian Russell Brand has admitted that he's set his sights much higher than making jokes about the Jonas Brothers or pretending that he is in any way interested in Britney Spears: he wants to be the new Doctor Who. If ever there was a candidate for the greatest argument for David Tennant to be offered whatever it takes to keep him in the role forever, it may be this one.Brand, whose film career includes the highlights of
Forgetting Sarah Marshall
and lowlights of
St. Trinians
, even knows exactly what kind of Doctor he'd like to be:
I'd make a good Doctor Who... I'd camp it up: "Ohhh, it's bigger in here than it is on the outside – and I'm not talking about the Tardis." I'd get through a lot of assistants. They'd be morphing every 10 seconds, changing like a carousel.
Dear everyone in the BBC: Please never let this happen. Ever.
Russell Brand: I want to be the next Doctor Who
[Now]