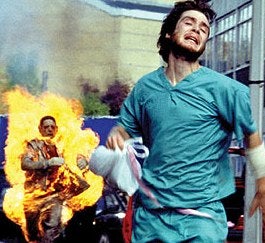 Sounds like the rage virus still hasn't been disinfected from our lives just yet. Director of
28 Days Later
and producer of the sequel
28 Weeks Later,
Danny Boyle is toying with our heart strings by vaguely talking about the possibility of yet another outbreak of the rage virus. And he may actually direct, this time. Will Boyle be showing us what happened
28 Months Later
? Please bring back the super duper fast undead, the zombie-loving community will thank you.Talking to MTV, Boyle hinted at the possibility of making a third installment to his 28 franchise. But even he knows it's going to get trickier and trickier to name these post apocalyptic films. Boyle told MTV:
"There's a bit of discussion going on about it at the moment," Boyle explained..."I have an idea for it [but] I've got to present it and see what people think really because it might be silly really," he laughed.
Don't be such a tease, Boyle —
28 Years Later
! Do it, just commit. It could be brilliant. But there'll be flying cars, right? [
MTV
]