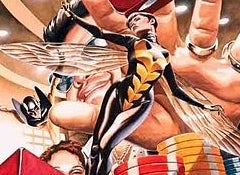 So we already know who some of Marvel Studios' line-up is for
The Avengers
: Robert Downey Jr. will be Iron Man, Ed Norton will be the Hulk... but did a recent visitor to the Marvel offices give us a hint as to who will be playing the team's token girl, the winsome Wasp? Possibly — if her choice of reading material is anything to go by.Film School Rejects noticed that
Desperate Housewives
star Eva Longoria visited Marvel Studios this weekend... and left with recent copies of Avengers comics, as she happily showed off for the cameras: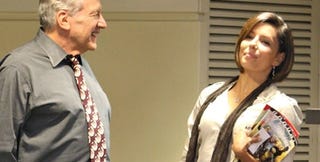 Does this mean that she's under consideration to play Janet Van Dyne, a character known as much for her constantly changing outfits and being beaten by her husband as for any positive reason? Admittedly, it's not a million miles away from her
Housewives
character — albeit, this time, without any possibility of being overshadowed by Teri Hatcher — but for some reason, we can't see Longoria in the role... She's almost
too
glamorous and showbiz to be convincing as a scientist-turned-superhero when placed against the ideal casting of Downey Jr. or Norton. But we've been wrong before...
The Avengers Movie: Eva Longoria Sniffing Around?
[FIlm School Rejects]