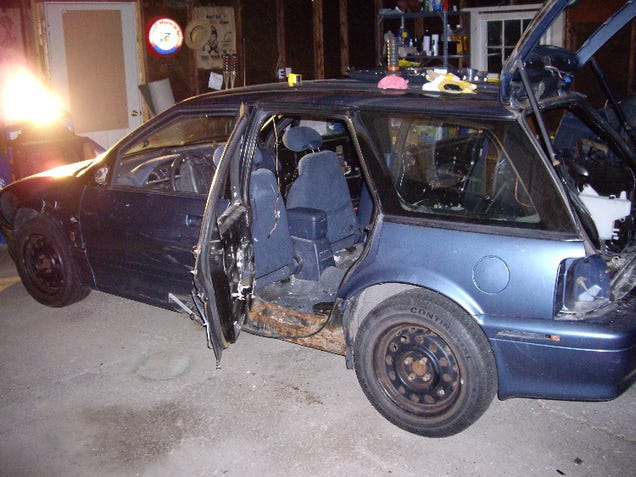 Work on the
io9 Apocalypsemobile
continues at a feverish pace. We've got an update on the Mad Maxification of our '94 Saturn station wagon, and there's still a lot to get done in the next few days if we want to race in this weekend's "Super Saturday Four-Cylinder Enduro." Reciprocal saws - is there anything they can't do? Check out our plans to make the car deathproof (I hope).A series of rainouts reshuffled the schedule at the track where we'll be running the Apocalypsemobile - now we only have a few days to get ready for a race moved to this weekend. While the big event we're shooting for isn't until New Year's Day, I'd really like to give this thing a shakedown cruise. Plus, the winner of
this Saturday's event
is guaranteed to start in the first row on New Year's Day. Here's a shot of Apocalypsemobile Headquarters (sadly, it is not in
an abandoned missile silo
):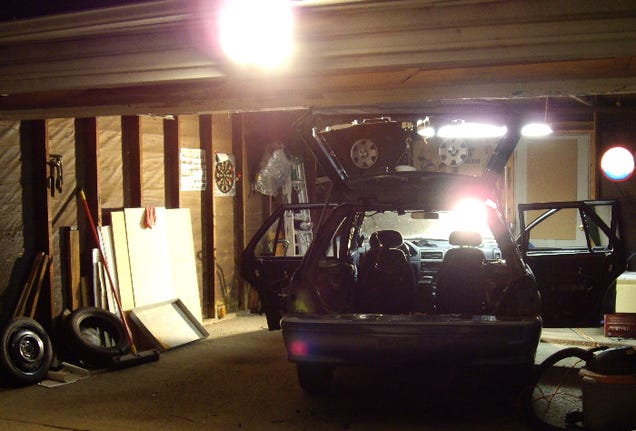 And here's the car's interior: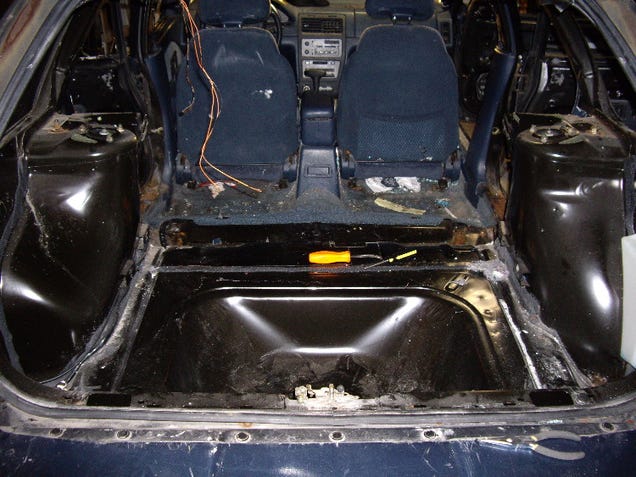 Most useful tool so far? Shopvac. Mainly because we removed the windows with a specialized tool called a "hammer." Why exactly is the wiper fluid reservoir behind the right rear tire? Also, many many thanks to my dad, who busted his butt all day with me in really unpleasant humidity to tear this thing apart. So what do we have to accomplish in the next four days?
Remove two more windows.
Remove headlights.
Chain doors shut.
Cut hole in hood (makes it easier for safety crews to put out engine fires). Hooray for the Sawzall!
Make roof fin for number (side numbers get obscured by mud).
Mount 5-point harness
Mount fire extinguisher
Make sure my loaner helmet will fit my gargantuan cranium.
Paint the car. I have several cans of bright pink paint that will go splendidly with the base blue color.
Rivet some sheet metal over that busted door (if we get to it).
Find a cheap/free trailer so we don't have to flat-tow it to the track.
The car might not be totally done in time for Saturday, but if we can get it legal for the race, we're going to go out and run anyway, if only to get some good photos. We have one sponsor already, but there's room on the car for more. Contact me if you'd like to go down in Apocalypsemobile history.