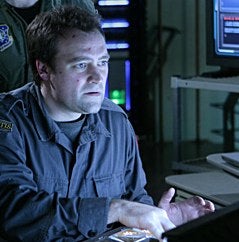 Sadly, this week marks the end of
Stargate Atlantis
filming. David Hewlett (the great Rodney McKay) Twittered his goodbye yesterday from the set, "Shooting the last scene, of the last episode, of
Stargate Atlantis
...2 more days of filming but this is it...thanks so much everyone!" It hurts so much, but the pain is sweet because I'm even more excited to see the super expensive
Stargate Atlantis
movie. But while we're on Hewlett's Twitter we decided to round up a few fun memories from this years
SGA
filming. No big surprise that the man loves
Doctor Who
and blowing stuff up.
September 8, 2008 1:56 PM:
First day on the last episode. In the Control room and in peril... the more it changes the more it stays the same ;-)
August 30, 2008 10:48 PM:
Finally watched "Blink" episode of
Doctor Who
....WOW! I'm on the wrong show!? ;-)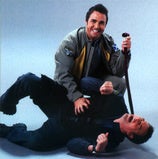 August 21, 2008 8:04 PM:
No more weekly McKay...sniffle...still, it's an actors life for me! ;-)
August 07, 2008 07:56 AM:
Oh, just filming a few scenes with Neil Degrasse Tyson and Bill Nye! How I love Stargate!
August 05, 2008 08:00 AM:
Hanging with Dave Foley, Bill Nye & Jewel Staite here on Atlantis...I love my job!
July 18, 2008 08:25 AM:
Breakfast? Eggs, sausage and explosives. We're blowing things up (again) here on the Atlantis set! Yipee!
May 23, 2008 07:51 PM:
Working with Shanks - too much fun to call work...updates anyone? http://www.adogsbreakfastmo...
February 20, 2008 11:25 AM:
McKay's back for Season 5. Started shooting and I've already forgotten I had a holiday...euwy gooey good so far!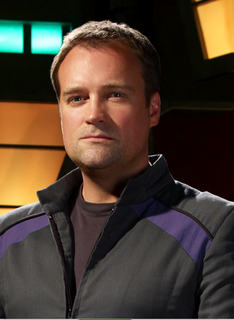 Goodbye our faithful McKay, we will miss you. [
Twitter
via
Subduction Leads To Orogeny
]