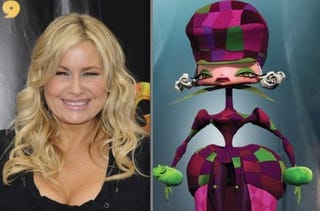 Ever since Jennifer Coolidge played Stifler's Mom many have fantasized about watching her bend and snap. Now the world's first MILF is providing the voices for the dark CG animated film
Igor
, playing the bad girl that slaps around the help (the Igors)
plus
a big-lipped Swede. We spoke with Coolidge and she told us the one thing you can't say in a kids movie, even when one of the characters continually commits suicide. Plus she told us all about the relationship between a big girl and a little guy. Also, we have some spoilery clips from
Igor
below.
Ok I couldn't help but notice the curves on these characters, were any of them inspired by you?
Well, maybe they made Heidi a little more curvaceous. I thought, wow do I need that extra stuff? I think it made her funnier to make her bigger. But she's graceful, like a graceful hippopotamus from
Fantasia
.
So they did model some of her look after you? I saw your look more in the evil Jaclyn.
The part of Heidi they did. The woman with the big lips, I think they did sort of had me in mind I think.
Why did you decide to go after the role of Jaclyn? She's such a baddie. Or did you audition for the role of Heidi first?
I did the voice of Heidi over the phone. I did my whole audition with Sam the director he actually called me from Paris and said, "Hey Jennifer I was wondering if I could hear some of your voices." And that was it some he didn't like and some he did. I did this one for Heidi, she's a Swedish sounding character and he liked it. And he said, "you know what Jennifer you know what I think that's it, you're alright." And that was it, I got the part. Usually, when you're an actress, you have to audition 20 times. I think Heidi was easier to do. She was less complicated than Jaclyn.
What do you think kids are going to get out of this film?
I think it's one of the best animated films I'd seen in a really long time. I thought the messages were pretty great. You don't have to believe what everyone tells you, you have to find out for yourself. I love that it has the theme: don't step on people to get ahead. You have a choice to either be kind or evil, everyone has a choice to be good or bad, it's up to you. There are so many great little messages tucked in this movie. I thought that if I had a kid, I would want them to see this movie.
What was your favorite scene doing that you got to dig into when you were recording?
I guess my favorite moment was when they asked me to come up with a bunch of mean things to say. They asked me to be mean to the character Eva. It was really fun to think of all the dumb things my character could say. But the cutest scene that I witnessed was the little scene where Eva gives the gifts to the guys. I thought that was so sweet. And I thought the love story between Igor and Eva was so charming and cute. I've always been a big girl going out with small guys. I've always had these short boyfriends and I just love that, this little tiny guy with a giant girl. Molly Shannon [voice of Eva] did a great job with her, both of those characters were so likable.
There is some seriously dark stuff in this cartoon. Steve Buscemi's rabbit character is brought back to life by Igor but keeps trying to kill himself.
I loved Steve Buscemi's character. You're right, it's very dark. I love it. You feel like so many of these movies, you start out and think, that's so interesting but then it never ends up in the film. Because they go interview a bunch of executives or they test it and say, "oh someone's offended." But they put that all in this movie. It ends up being a terrible movie if you try and please everyone. I thought it was pretty untouched.
Were there any lines that you improvised that didn't make it?
In other movies, sometimes I was improvising and I was trying to be mean and someone says to you, "Jennifer you can't say something that mean." And you say, "But my character is mean. I'm supposed to be mean." Then they ask me to tone it down so I don't offend somebody. But here I improvised a bunch of things to say to Molly's character and they actually used them. There was one line, though, that I wanted to say [that didn't make it]. My character's evil boyfriend says something and I responded that, that was as stupid as a big bag of diarrhea, and they didn't use that. They didn't really want any of my bathroom humor.
Do you think a lot of the characters look like the actors that voice them?
I thought those guys did an incredible job with matching people voices with what the characters ended up looking like. The animators in the Sparks company in Paris, that I got to go visit, those guys are mind blowing. I think that's why I got so emotional when I was watching the movie. When stuff is that three dimensional you feel like you're living in the movie. When I was growing up, cartoons didn't look like that. I would be any of those characters for Halloween, I would love to have any of those Halloween costumes. I would wear one because they are so interesting.