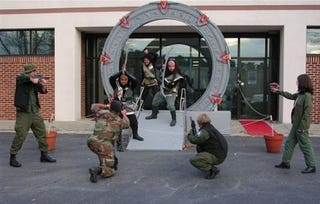 Want to know who's going to be leading you into (and quickly out of) alien danger each week in the brand new series
Stargate Universe
? The fine folks over at Gateworld have the scoop on the brand spankin' new characters we'll be seeing this year. Unfortunately they all seem to be brand new, which means the Sci Fi Channel didn't like my
Moonlighting
-esque "Keller and McKay" show idea.According to Gateworld's tipsters all of these characters will be series regulars.
Colonel Everett Young
The leader of the gang is a 40-something, handsome Gater (are there any other kinds?). He's being compared to Jack O'Neill, but a little raw around the edges (so not like Jack O'Neill at all unless he spouts off ridiculously delayed one-liners). He would rather be on Earth with his wife of two years, Haily, but he's stuck guiding these kids across the universe.
Tamara Jon
A young 20-something "preferably Asian" who will be the SGU medic. She dreamed of being a doctor but couldn't afford medical school so she joined the Air Force. Jon is a thrifty young lady who makes do with the limited supplies aboard her ship.
Chloe Carpenter
Another 20-year-old hottie who was born into wealth, but left it all for the Navy with dreams of becoming a politician just like Daddy (who died tragically). She also has an Ivy League education.
Eli Hitchcock
The lazy genius of the bunch. Gateworld compared him to a
Good Will Hunting
type character. He is also in his 20s.
Lt. Jared Nash
A young man who is, "every teenage girl's fantasy." He's the hottie of the group, young and restless always willing to go first type of character... so sort of like Sheppard.
Ron "Psycho" Stasiak
Ron will be the big strong type, like a Teal'c, you can tell because his middle name is "psycho." Also a young man (only 20 years old) Ron has a combat filled past, but like all people who are quiet, he's filled with mystery. For more details on each character head to Gateworld, but so far this show sounds like a college classroom, what with the old guy leading the pack of 20-somethings. We need some older blood in here, but then again Sci Fi did state that they were aiming for a younger crowd this time around. [
Gateworld
]