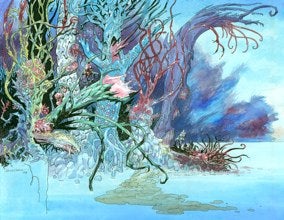 Get trapped by a carnivorous, water-going tree known as Blue Forest? Don't worry, we've compiled a list of the best stories of the week, just for you.
Announcing the Winners of the io9 Mad Science Contest:
Politicians may be worried about the dangers of scientists "playing god" with genetic experimentation, but we want biology to be brazen. We're rooting for mad scientists with homebrew closet labs, grassroots geneticists, and garage genome hackers - because they're the researchers most likely to change the world. And so, almost three months ago, io9 announced the world's first "mad science" contest, named after the kind of hero who keeps pursuing scientific innovation against all odds. Our contestants were asked to build a real lifeform using MIT's registry of standard biological parts known as "biobricks," or by using other scientifically plausible materials.
Just How In Trouble Is Dollhouse?
We told you earlier this week that new Joss Whedon series Dollhouse has shut down production for two weeks, along with passing along the official Fox statement that everything is fine and that there's nothing to see here, move along. But since then, rumors have been sneaking out that more may be going on than meets the eye, so we started wondering: Should we be worried about Dollhouse already?
Which Fall TV Show Will Get Canceled First?
The fall TV season is in full swing again, and it's not too late to speculate about which shows are headed for an early doom. After all, it's not unheard of for shows to last a few episodes, then vanish into DVD heaven. In fact, this could be your chance to get your vote in so you can say you told us so later. Jump in and take part in our fall scifi TV deadpool!
Frightening New Footage from The Day The Earth Stood Still
Last night, the new big-budget remake of scifi classic The Day The Earth Stood Still debuted about 7 and a half minutes of new footage, and it's pretty darn scary. Gone are the subtleties of 1950s acting, replaced with amazing new powers for Klaatu and CG spheres that will blow you away.
Finally, A Good Reason To Go And See Star Trek
Paramount is screening footage of their big 2009 movies for international press, and the resulting buzz on JJ Abrams' Star Trek is very positive - and that's before you learn about the full-length trailer for another much anticipated movie that's going to be accompanying it into theaters next May. Are you ready for a colorful, fun journey into the stars?
Become a Jedi Knight in One Easy Lesson
There are many paths to becoming a Jedi. You can claim it as your religion on your census form. You can start attending a Jedi Church and vow to follow the Jedi Code. You can wear a hooded robe, utter pithy maxims, and take lessons in lightsaber dueling. But for those seeking a more academic approach to harnessing the secrets and powers of the Jedi, Queen's University Belfast is offering a class on "How to Train the Jedi Way."
io9 Talks To John Noble About Playing Science Fiction's Weirdest New Character
Big-brained lunatic Walter Bishop from the new Fox series Fringe is my new favorite science fiction character. Lacing through his science-heavy dialogue are some hilarious did-he-just-say-that moments that actor John Noble expertly delivers. His idiot savant attitude is both scary and endearing, and you don't know if he's going to bark at you or curl up in a little ball. At the New York Television Festival, we got an exclusive interview with the man who pulled off the "I just pissed myself" line, and asked him about his take on Fringe's number one bad guy - science - and if Walter is ever going to save the day. And it turns out Noble's all pumped up to get into some fisticuffs.
We Don't Need To See Captain Kirk's Childhood Trauma!
Next summer, we're going to get a glimpse into the terrible childhood trauma of one of our greatest science fiction heroes. According to some spoilery leaks from one of next summer's biggest movies, we'll get a detailed flashback to that hero's childhood. We'll peel back the emotional scars that are the real reason that person is so intrepid and bold. When is the crazy over-sharing and psychoanalyzing going to stop? Spoilers ahead!
Is Peak Oil a Lie?
At the Cleantech Forum this week in Washington, DC, prominent futurist Peter "Long Boom" Schwartz argued before a packed room of investors that peak oil is wrong. He claimed that the Earth would not be running out of oil any time soon, and that people who use the idea of peak oil to motivate the production of alternative energy are going to wind up screwing the Earth over in the end.
Early Drafts of Fringe Posters Leaked, Reveal Suppressed JJ Abrams Ideas
You've been hearing all about how Joss Whedon's Dollhouse has gone through multiple revamps before hitting the airwaves, but apparently JJ Abrams' Fringe went through a similar (but more secret) series of reconceptions. We've managed to get our hands on early versions of the show's iconic teasers and posters. When you look at them, it's clear that Abrams and fellow creators Alex Kurtzman and Roberto Orci really had to go back to the drawing board on that title and those taglines. What were they thinking? We've got all five leaked posters for you below.
Live in a Yuppie Missile Silo in Upstate NY
You've always wanted to live in a missile silo in beautiful upstate New York, snow-shoeing during the day and at night cozying up in your bedroom, two stories below ground, that remains at a steady 58 degrees (Earth's ambient temperature). Though most missile silos commissioned by the U.S. government are going to waste, two entrepreneurs have turned this NY silo into a Yuppie paradise, with luxury bathrooms and swanky blast doors shined to perfection. The silo has been on the market since last year, and has yet to find a buyer. Want to know what you'd get if you bought this lovely silo, which comes complete with its own airplane landing strip and 360 degree surveillance capabilities accessed via the "control center" in the silo? Walk through the blast doors (pictured) and see for yourself.