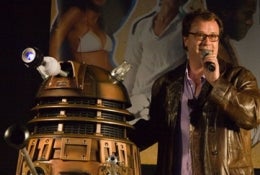 He may be almost permanently tagged as "the outgoing
Doctor Who
producer" while he works on 2009's special episodes of the BBC's time-traveling series, but Russell T. Davies has revealed that he would be perfectly happy to return to the world(s) of the regenerating time lord, if they ever got around to making that much-rumored movie version.Davies believes that the often-discussed
Doctor Who
movie will happen (although he added "some day," to ward off potential "Davies Announces Doctor Who Movie" headlines from overeager journalists. Damn him), and he's entirely ready to jump back in the Tardis if and when it does:
I'd be very interested in going back for it. I think it could be lovely and could work as an idea. They did one in the 1960s and that worked and it didn't affect the TV series at all.
Of course, the movie(s) in the '60s didn't tie in with the television series at all, even going so far as to cast a completely different actor as the Doctor... so does that mean that Davies is in favor of a non-canonical movie? Oh, if only we could get our own
emails from him
...
Davies: 'I'd return for Who film'
[Digital Spy]