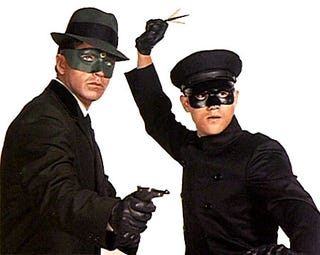 Now that "superhero movies" have become Hollywood's biggest summer genre, we're going to see a flood of films deconstructing superhero tropes in various ways. But the most exciting superhero revamp may not be
Watchmen
or
Kick-Ass
, but rather the
Green Hornet
, the
Batman
-esque action-comedy starring co-writer Seth Rogen. Why? Because of its new secret weapon, co-star and director Stephen Chow. Rogen said all along he wants
Green Hornet
to be about an action hero who's less famous than his sidekick. Which makes sense, given that everybody remembers Bruce Lee as chauffeur/sidekick Kato from the 1960s TV show, and absolutely nobody remembers the guy who played the Green Hornet himself. So it's really amazing news that Stephen Chow, a comedy giant with a string of movies like
Kung-Fu Hustle
and
God Of Cooking
under his belt, will play Kato. And since Chow is also directing, he can presumably make sure Kato gets the spotlight. Says Chow:
I'm excited to be taking on 'The Green Hornet' - obviously, I've been a huge fan of the show since I was a kid. The idea of stepping into Bruce Lee's shoes as Kato is both humbling and thrilling, and to get the chance to direct the project as my American movie debut is simply a dream come true.
Says Rogen:
Stephen was always my and [co-screenwriter] Evan [Goldberg]'s first choice for director and to play Kato. We just hope that he never finds out we're not the Wachowski Brothers.
I'm also stoked because this makes Chow's second science fiction-y movie, after
CJ7
. I'm still hoping this spurs a trend in Chinese movies, away from kung-fu epics and towards scifi ones. I just hope they keep all the scifi touches, like the Hornet's gun that sprays knock-out gas, and his electric stun weapon known as the "Hornet's Sting." (Actually, the latter sounds a bit like a taser, come to think of it.) Also, let's hope the Green Hornet is still a newspaper publisher by day — I totally want to see Arthur Ochs Sultzberger fighting crime. [
MTV
]