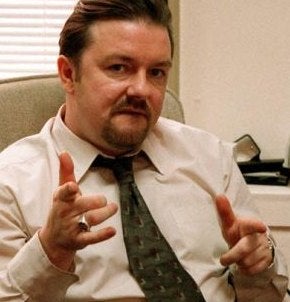 Everyone's favorite stuttering Brit, Ricky Gervais admitted to
Entertainment Weekly
that he passed on a part in J.J. Abram's big budget
Star Trek
origins tale. While we love all things from the creator of
The Office
, we're glad that this already fan-service heavy film isn't getting too many gratuitious cameos. That said, there are a few actors we wouldn't mind seeing have a cameo in the new
Trek
- which one do you think would rock the hardest?Said Gervais to
EW
:
I was never a big fan, so I would've felt guilty taking the part just to be in a blockbuster. To what? Boost my profile? [...] I'm not trying to be a film star. I don't care if I never do another film again. I can create my own material and I've got to remember that. As exciting as it is to be a film star, it means nothing to me.
I think that putting Gervais in the new
Star Trek
flick would have been like Ted Danson's cameo in
Saving Private Ryan
, ruining the hard work Abrams' has already put into the film. I'm still shocked that Winona Ryder was cast and worry that seeing the little pixie dressed up in Amanda Grayson's futuristic muumuu will completely kill the moment for me. Still if I had to pick who I'd want to see drop in on the baby crew of the Enterprise, these are my picks of the litter. Which one do you like?