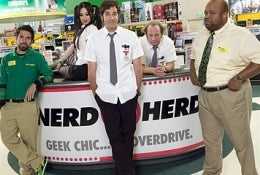 You don't have to wait until next Monday to see the second season premiere of NBC's spy-computer-brain comedy
Chuck
; it's already online, so that your long, hard summer of Buy More drought can end earlier than expected. But how do they get out of last season's cliffhanger, where Chuck was marked for death at Casey's hands, thanks to the creation of a new Intersect spy database? Spoilers await.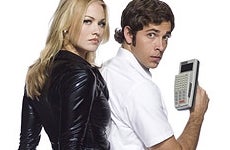 While it's good to have
Chuck
back, there's nothing special about "Chuck Versus The First Date." For all the talk about this episode acting as a second pilot episode, there's nothing here that you haven't seen done before — and, for that matter, done more entertainingly — in the show's first season. All of the show's cliches are checked off (Look! There's Big Mike being gruff! And the BuyMore employees getting all Lord Of The Dysfunctional Flies in the back of the store! Here's a hint that Sarah really does love Chuck, but can't tell him! Oh, isn't Casey sweet under that gruff exterior? etc.) , and in such a way as to make it feel lethargic and necessary instead of urgent and exciting. Using the threat of a new Intersect as a McGuffin for both of the show's plots before literally just blowing it up at the end of the episode in order to preserve the status quo, we're left with Chuck bemoaning the fact that his life is going to stay the same old drudgery forever more, with no chance of improvement... hardly the message to send viewers who'll have already spent the last hour feeling a distinct sense of deja vu. It's possible that creator Josh Schwartz just gets flattened by the idea of a sophomore slump; his (and I am not ashamed to admit it) awesome
The OC
had a lackluster second year, after all, and concerns about the strike-induced false start of the show's first year may have made him feel that he needed to hit the reset button and repeat everything from the show's first year — but neither of those reasons, nor this treading-water opener, are good signs for what's coming up over the next twenty-one episodes. Here's hoping the second episode starts to push things forward again.
Chuck Versus The First Date
[NBC]