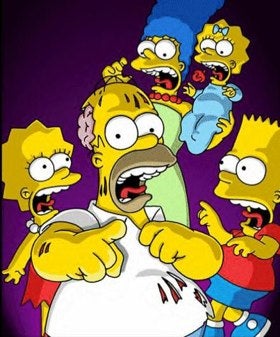 Click to view
The season premiere of
The Simpsons
this Sunday, but we're bringing you all the new season's details now. What happens when Comic Book Guy joins the ranks of all those comic writers-turned-movie producers? Al Jean, executive producer and head writer, went on a conference call with reporters and spilled all the details about celebrity cameos and explains about the upcoming "Treehouse of Horror" episode which includes an evil Charlie Brown parody of "The Great Pumpkin" where the humans are punished for their abuse of pumpkins.
Anne Hathaway Jodie Foster and Seth Rogen are all already down for celebrity cameos. Can you elaborate on their roles?
We actually recorded Ellen Page this week. Jodie Foster is in a trilogy episode, it's powerful women through history. We do a parody of
The Fountainhead
where Maggie Simpson is in a preschool, where she trying to build these beautiful block buildings and the preschool teacher keeps knocking them down for being creative. In at the end she goes on trial like in the end of
The Fountainhead
, and Jodie Foster does her voice. Anne Hathaway is really sweet and Bart likes her and tries to hide his true identity from her, [and pretend] that he's not a brat. But she eventually she finds out that he lied to them and they break up, but she was so much fun to work with. Seth Rogen also co-wrote the episode. What he does is the comic book guy creates a superhero called Everyman. His power is power that whatever comic book he touches, he gets that power. So they make a movie staring Homer and Homer is overweight and doesn't look like a superhero, so Seth Rogen plays the personal trainer who is going to get him into shape.
Does it frustrate you that you can't do something about Sarah Palin right now?
No I don't know what people are gonna think about her in 6 months, she may not even be around. I've already seen the Tina Fey sketch and I thought that was really funny. There was a big flip, last week, in terms of what people think.
Everyone loves the "Treehouse Of Horror" after 19 years of doing it are you having a tough time coming up with that big episode this year?
No,this year we really made a fun one. It airs November 2nd, so we're hoping doing a little thing about the election where Homer tries to vote for Obama but the machine keeps changing it to McCain and finally kills him. We do a satire of the fact that they can take dead celebrities and put them in commercials. So Homer starts killing living celebrities so he can put them in commercials. Then we have a parody for the first time of The Great Pumpkin from Charlie Brown. Our character The Grand Pumpkin, totally different legally, comes to life and is so mad about the way humans treat pumpkins that he tries to kill them all.
Do you think there should be an ending to the show?
We signed the cast for four years, including this one, just recently. The Emmy was wonderful. I really feel like creatively we're still doing terrific work I don't see an end for a while. The movie and the ride did really well.
Who are some of your favorite long-running side characters on The Simpsons?
Kelsey Grammer is always hilarious and can sing really well. It's so much fun having someone who is trying to kill Bart who is so smooth and the same time so violent. Phil Hartman - when he passed away we retired his character [Troy McClure and Lionel Hutz] because nobody else could do it like him. Jon Lovitz somebody makes me laugh. he would ad lib so much. As far as the regulars, Comic Book Guy and Moe.
So Homer is an Obama supporter?
It's time for a change, so he actually is going to vote for Obama. So he goes to vote and it says one vote for McCain, he tries to hit it again and it says two votes for McCain and then he hits it three times and there are three votes for McCain. The machine starts trying to kill him and it says, "must warn President McCain."
Everyone loves Spider-Pig. When is Spider-Pig coming back?
The biggest thing with the movie is we wanted it to be stand alone. But everybody like plopper so we thought we'd bring him back. If we had an episode we'll do it. I think he was the break out character of the movie
I love it when The Simpsons incorporates new technology into the episodes will their be any stunning or crazy science fiction moments like Homer breaking over into our world again?
We have an episode that will air in March where homer gets some poison to kill some rats in his kitchen that are like
Ratatouille
, and he leaves Maggie on the doorstep of the convent and they take her and it becomes a whole Davinici Code. They have some use for Maggie in this convent that may involve world peace. It's got National Treasure elements in it. It's a really cool complicated story. It's a little more visually stylistic. If we had a funny comedic presence for something we haven't done before, I thought the 3D Halloween show I thought was really great. We did pretty much what you wanted to do with it. We try things as they come along, if something has a good comedic purpose, we will use it.