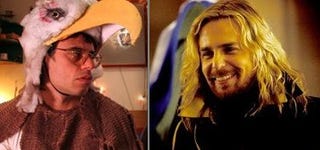 The hero of upcoming superhero comedy
Gentlemen Broncos
is played by Sam "Confessions of a Dangerous Mind" Rockwell, who says his character has "two sides" — a self who appears in an original novel written by a teen, and a self who appears in a plagiarized novel written by a guy who steals the hapless teen's idea. Rockwell, out this week in
Choke
, shared a little character insight with us on what he called his "Flash Gordon drag gueen" character and working with
Flight of the Conchords
' Jemaine Clement, who plays the plagiarizing author.
Gentlemen Broncos
, directed by
Napoleon Dynamite
helmer Jared Hess, is about the Orson Scott Card-esque author Ronald Chevalier, who steals a novel idea from one of his teenaged fans. Rockwell is the main character in both the original novel and the ripoff one. In in interview during press time for
Choke
, Sam Rockwell told io9 about his experience with
Gentlemen Broncos
:
That's just silly, that's sketch comedy for me. He's [ Jermaine Clement] is brilliant, by the way, that Jermaine, I saw some of his rushes him and Jennifer Coolidge are...phew.
As for what the movie is about, he said:
It's kind of like Rushmore and Flash Gordon and I play the Flash Gordon character. I play two versions of him because they plagiarize the story within the movie. Jermaine plagiarizes it from our kid, Michael [Michael Angarano]. That's a really awesome movie.
But the really important question: Does he get to wear a superhero costume? Rockwell said:
I wear a lot of costumes in this, some really tight uncomfortable costumes in this. I'm in drag basically in one of the characters. I look like Captain Kangaroo in drag like a transvestite version. When we filmed it, it was insane. It took a month in the desert in Utah, but it was great. It's a comedic hero, it's silly. It's like Will Ferrel meets Flash Gordon, that kind of thing. It makes fun of itself.
I can not wait for this film. Sam Rockwell plus Jemaine Clement = comedy genius.