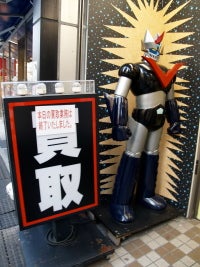 Welcome back to MangoBot, a biweekly column about Asian futurism by TokyoMango blogger Lisa Katayama.
Earlier this week, I joined a team of experts from
Gizmodo Japan
on an expedition to the world's most famous geek mecca. For half a century, people trekked to Akihabara to buy electronics parts. But in the last 10-15 years, the neighborhood has turned into a giant playground for
otaku
to express their love for anime in any and every way—whether it's dressing up as them, being served by them at restaurants, or collecting fan-made manga and figurines that depict them as porn stars. Today, I'm going to give you a quick guide on figurine shopping in Akiba. Akihabara—or Akiba, as regulars fondly call it—has as many figurine shops as 47th street has diamond retailers. Way back in the day, the area was inhabited by lower-class samurai and craftspeople who made everything from swords to ceramic bowls. During the post-WW2 US occupation, it hosted a black market for electronics components like vacuum tubes, radios, and nuts and bolts. Then, in the early 80s, after the debut of Nintendo's Family Computer, several retailers started selling video game software. One day, somebody realized that the people who were crazy about electronics were the same people who went to little stores sprawled out across town that sold figurines of robots and anime characters. Thus spawned the "figyua" madness seen today. Most standard-scale PVC 1.7-scale figurines from major retailers sell at a standard 6,800 yen, or about $65. Danny Choo, a well-known
Stormtrooper cosplayer
who collects, reviews, and blogs about figurines on
DannyChoo.com
and for
Good Smile Company
, describes his fascination with figurines as follows: "The way people see statues in Italy is the way I see the figurines in Akihabara. They are works of art." Choo also explains that new technologies allow the figurines to be flawless—they're finished with 600 layers of paint in order to get the skin tone perfect, and the joints are smoothed down with putty and sandpaper. "My favorite is a pink-haired
ero-ge
character named Fauna. She's so cute, she gives me energy." Goodsma and MaxFactory are two major manufacturers of high quality figurines. They also make things like cell phone strap accessories, but it's the big-breasted anime girls that really make the big bucks. In Akiba, fans don't just buy figurines in boxes. A subset of talented geeks pick up kits and then fine tune the products into perfectly painted, customized collectors items that they then resell in little glass windows rented by the hour for about $500/week. Why buy figurines that have been modded by other fans? With kits, you often don't know what you're going to get inside, but this way you can pick and choose what character you're getting. The more skilled fans also add extra super-intricate coloring and detail to the standard finish, enhancing the aesthetic. It's kind of like getting any product customized—cookie cutter factory-made goods transform into one-of-a-kind collectors' items. Radio Kaikan, a famous seven-story department store built in the 60s, used to exclusively sell music components, but as the demand for music players dropped and the demand for figurines soared, the display of stereos have been replaced by rows and rows of figurine-encasing glass windows. Akiba is a magical place where anime fans can express their talents and obsession with anime freely and creatively. The Giz Japan figurine tour really gave me a good glimpse into the creativity, talent, and obsessiveness that dominates otaku subculture. Where to buy figurines in Akiba: - Robots:
Tsukumo Robot Kingdom
, Tsukumo Pasoko Honten 3F, 1-9-7 Soto Kanda, Chiyoda-ku Phone: 03-3251-0987 3 minute walk from Akihabara Station. - Manufactured figurine sets:
Asobit Character City
, 1-2-9 Soto Kanda, Chiyoka-ku. Phone: 03-3257-2590 - Fan-made figurines:
Radio Kaikan
, one minute walk from the Akihabara Electric Town exit.
Map