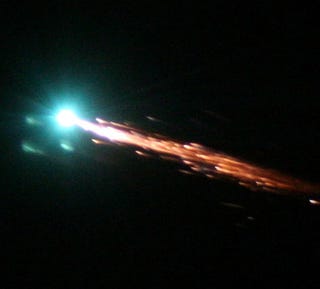 As our sister site Gizmodo
reported yesterday
, the European Space Agency's cargo craft Jules Verne returned from its mission to the International Space Station — and went out in a blazing ball of glory. You all saw the photos yesterday, but now the ESA has released a high-res video of Jules Verne's destructive re-entry — and hey, since it looks like the Hubble's going to be out of commission until 2009, thank goodness they did.The ESA has posted the footage of the Automated Transfer Vehicle's last ride
here
; until I saw it, I never thought burning garbage could look so transcendent. But this isn't just for decoration: the ESA
announced
that its engineers will be analyzing Jules Verne's fiery final path.
Following its undocking on 5 September, the ATV had spent 23 days carrying out "rephasing" manoeuvres to bring it to the correct position behind and underneath the ISS. This predefined position allowed the re-entry to be viewed and recorded from the Station itself, as well as from two specially-equipped observation planes located in the vicinity of the ATV's flight path in the skies above the South Pacific. This observation campaign will serve to determine whether the vehicle's break-up matched the computer modelling.
This news comes at a troubling time for NASA. At a
press conference on Monday
, program administrators announced a second delay for the Space Shuttle Atlantis's mission to repair the Hubble Space Telescope. Originally scheduled for October 10, the servicing mission will now take place sometime in 2009. What needs to be fixed is the Science Instrument Control and Data Handling Unit, which is the box of fun you see below.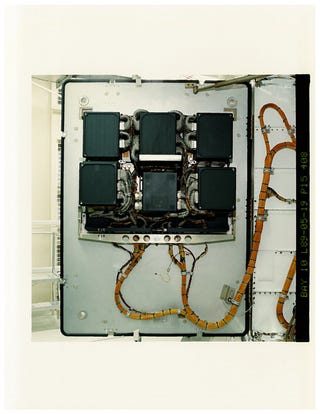 While NASA deals with its issues, you'll have to look to the ESA for your space porn. Good thing they're already building the next ATV!
Images from ESA and NASA.