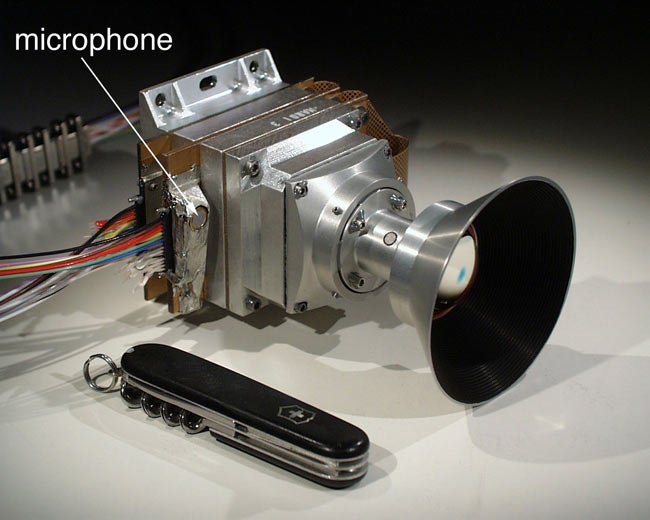 Much of the excitement over the Phoenix Lander of late has focused on its discoveries of water on Mars. The Phoenix has touched Martian ice, found the planet's internal plumbing, and even seen it snow. Now the team is preparing the Phoenix for a different sort of first, as NASA scientists prepare to turn on its microphone and, for the first time, listen to the sounds of Mars.The Phoenix team announced Monday that they've been given the go-ahead to turn on the Phoenix Lander's microphone in the next week or two. Although the researchers are excited at the prospect of hearing Martian sounds for the first time, their current expectations aren't particularly high:
Phoenix scientists aren't sure just what, or how much, they'll hear. For one thing, Phoenix's mike is "not a professional microphone," [Phoenix principal investigator Peter] Smith said (he likened it to the microphones used on a standard cell phone). For another, sound waves don't travel as far on Mars as they do on Earth because Mars' atmosphere is thinner. It would be similar to listening to sound at an altitude of about 100,000 feet (30,500 meters) above Earth's surface, Smith said. If the team can hear Phoenix's operations, they'll then turn the microphone on while Phoenix is quiet and just see what they can hear. What that might be, Smith isn't certain.
The microphone is being activated as part of the Mars Descent Imager system, which will give NASA a closer look at the Phoenix's discoveries even if it turns out there's nothing to hear. Image courtesy of NASA.
Listening In: Lander to Record Mars Sounds
[Space.com]