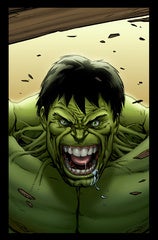 Marvel Comics took a brave, long overdue step into reality when the company announced it was finally creating original
webcomics
, with new installments running about three times a month. Up first: tie-ins to Marvel's most lucrative theatrical properties,
Iron Man: Fast Friends
and Incredible
Hulk: The Fury Files
. Already two issues in, Iron Man — written by Paul Tobin and illustrated by Ronan Cliquet — is proving a light and entertaining, if rudimentary, peek at Stark's entrée into S.H.I.E.L.D. As for the ever-embattled
Hulk
, which debuts Oct. 8? We scored an early peek at the first issue. Spoilers ahead!
Penned by Frank Tieri, with art by Salva Espin,
Hulk
's issue 1 is one big tease touting S.H.I.E.L.D.'s designs on Bruce Banner. It stars with a flash-forward of the Hulk going feral, as an unidentifiable man calmly tells him, "No." And it ends in the recent past, with that mysterious, shadowy stranger revealing his rather predictable identity — after small-talking a still-placid Bruce Banner in a nondescript bar. Most of the issue is just Tieri oscillating between empty chatting and a string of awkward internal dialogue, ostensibly to fill pages. Espin's art, meanwhile, is suitably hushed; he's no doubt itching for a thunderous climax to come in a future issue. Much like
Iron Man
#1 — which killed space by indulging in the brah-on-brah repartee between Tony Stark and James "Rhodey" Rhodes — this first
Hulk
would benefit from more plot-driven direction. Though given how quickly
Iron Man
is catching up to speed on expectations, it may be worth your while to stick around with this
Hulk
title as well. But at a subscription rate of $4.99 a month/$55.98 a year (which also lets you view all of Marvel's online catalog), you'll have to decide if it's ultimately worth your money.
(Images courtesy Marvel Comics)