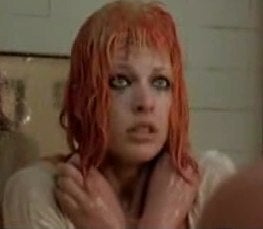 Did you go blind from some sort of disease that covers your line of sight with milk, and then turns you into a maniac? Don't worry, we've compiled a list of the best stories of the week, assuming you now have your eyesight back, or hired a small child to read io9 to you.
Science Fiction Takes A Shower: A Video Compilation
The best part of movies and television is working the cliché. We couldn't help noticing lately how many science fiction shows feature the obligatory shower scene. So we decided round up some of the more unique scifi shower moments in praise of all things wet and wild. Also, it's been a rough week already and we know some of you could use a little silliness, courtesy of the Predator and his roommate.
>Iron Man Clips Show Stripper-Pole Antics And Armored Mishaps
The new
Iron Man
DVD is out, and here is a sampling of what you're going to see, courtesy of Myspace. We've got Tony drunk with War Machine and seconds away from joining the mile high club, visual effects test scenes and more Pepper/Tony moments. Check them out: Robert Downey Jr. has never been cuter than paired with a drunk Terrence Howard.
Heroes Avoids Credibility, Grounded By Budget
Did you enjoy this weeks
Heroes
, but thought that some scenes were a little... underwhelming? You weren't alone; series director Greg Beeman has been spilling the beans on what was originally planned for last night's three set-pieces before budgetary concerns forced them to bring everything back down to earth. One of the cool things that we missed out on? Hiro and Ando getting to re-enact the opening of
Indiana Jones And The Last Crusade
in the middle of India. Be warned: Thar be spoilers ahead.
Men In Black 3: Are There Any More Wacky Aliens Left?
Rumors are flying that
Men In Black 3
is out there somewhere waiting for the right funding. But seriously, do we need another one of these? Because you know Tommy Lee Jones would do it if offered a paycheck, so the chances of this flick hitting big screens are about 50/50. My only concern is, haven't we tapped out on the whole "talking pug" and "famous people who are aliens" jokes? According to producer Walter Parkes, apparently not.
12 Splash Pages Will Convince You Frank Miller Shouldn't Adapt The Spirit
Most of the people eagerly awaiting the Frank Miller-ized movie of Will Eisner's amazing comic
The Spirit
have never actually read the original comic. So they probably don't have a sense for the difference between the comic and Miller's campy Sin City-esque vision for the film version. So as a public service, we're presenting the best 12 splash pages featuring Will Eisner's masked hero, to show once and for all why Miller can't hope to bring their genius to life.
Scientists Pick The Greatest Books And Movies Of All Time
At last, the most important works of science fiction are being determined scientifically.
New Scientist
magazine is doing a special science fiction issue on Nov. 15, and the magazine is polling its science-boffin readers as to the greatest books and movies in the genre. The magazine's own staff have already voted, and you might not be surprised by the books they put first. But you may have some issues with their most hated movies and books.
Are Comics Part Of The Left-Wing Media Conspiracy?
You may be wondering exactly what Sarah Palin's personal policies are, ahead of tonight's Vice Presidential Debate, and we're happy to help you with that: Apparently, she's anti-witch... or, at least, that's the message that we get from this cover from the October issue of the revived
Tales From The Crypt
. And, as this year's US Presidential election nears, this one previously non-partisan genre staple's move into editorializing against the Republican ticket is only one way in which comics are trying to get in on the action.
What If Everybody In Science Fiction Really Was Related?
It all started when Sarah Connor had a salty affair with the Master, the evil renegade time traveler from a lost civilization. They both knew it would never last: for one thing, the Master kept trying to hypnotize Sarah into having a threesome with one of the liquid-metal Terminators he'd "reprogrammed." But worse, the Master was always leaving shrunken naked sex-workers under Sarah's porch.
Adapting Saramago's "Blindness" Was A Journey From Horror To Poetry, Meirelles Tells io9
Fernando Meirelles garnered award nominations for City Of God and The Constant Gardener. So he was probably the perfect choice to direct the film version of
Blindness
, Jose Saramago's terrifying novel about an epidemic of inexplicable blindness. The paralyzes an entire country and reduces civilized city-dwellers to near-animal status. But Meirelles struggled to find the right level of horror and "degradation" in his movie version, he tells io9 — an early cut of the film had dozens of women walking out in outrage. Spoilers ahead.