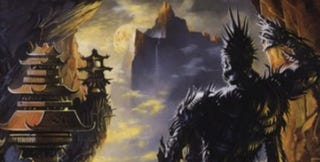 We once asked
who would replace Philip K. Dick as the most adapted SF writer
, and Peoria's own prolific Dan Simmons is definitely a credible candidate. Bringing an educated, literate eye to whatever he writes - be it historical fiction or sci-fi, short story or novel cycle - Simmons is one of the most imaginative writers around. For those of you who have yet to worship the ground Simmons walks on, read on and get your credit card ready.Perhaps best known for his Hyperion quadrilogy, Simmons loudly announced his arrival on the scene with the 1985 horror novel
Song of Kali
. It's a harrowing account of a man's journey to the darkest part of Calcutta, here a city more frightening than any otherworldly hell. The book won a World Fantasy Award, but Simmons had almost given up on trying to sell it before that point. Grab it for an easy read on a train or plane, but Simmons was soon to surpass any tag of 'airport fiction.' Released in 1989 along with his novels
Carrion Comfort
and
Phases of Gravity
,
Hyperion
is a very different book and the best of three, turning Chaucer's
The Canterbury Tales
into an all-encompassing galactic mystery. Simmons' universe contains select labyrinthine worlds, and the planet Hyperion is such a world, where the participants in this drama go to fulfill or escape their fates. The book's coup de grace is the novella-length tale of a Christian missionary sent to investigate a tribe of quasi-humans without genitalia or basic intelligence, and the collection of short, digestible stories adds up to a greater whole.
Hyperion
was just the start of the "Hyperion Cantos" series - running through
Hyperion
,
The Fall of Hyperion
,
Endymion
and
The Rise of Endymion
, along with a handful of related short stories - which is
currently in the hands of writer-director Trevor Sands
and on its way to the big screen, and not too soon: every minute that passes without our Shrike action figure and matching knife-set is a lost one.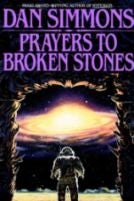 The ideal vehicle to experience the breadth of Simmons in the short form is the seminal collection of his early stories
Prayers to Broken Stones
. It is a virtual index of what followed
Hyperion
, and includes the never developed classic, "Shave and a Haircut, Two Bites." This reimagination of vampires highlights Simmons' strengths when he delves into horror: Simmons differentiates himself by drawing together disparate elements in a short period, and using elements of science fiction within the horror scope. As the consummate genre-hopper, Simmons' attention can waver, and the short story reins him in.

Simmons became the master of the minor classic in 1992 with the brilliant
The Hollow Man
, a fiction length treatment of how exciting
Sookie Stackhouse's telepathy can be
when it has a more understated effect than making you bone vampires. Have a free weekend and a need for literary entertainment? When you combine mental illness and gun violence with a scientific and psychological depth, you have a project tailor-made for film. Even in the most fantastic setting, Simmons keys in on authenticity and detail that makes
scientific sense
:
I was visiting a certain unnamed SF writer once when he (or she) was working on an invisible man story. This writer had the person becoming invisible by being transparent to light. When I pointed out that the invisible man would also be blind - that the eye needs darkness for the retina to work, just as a camera does - the SF writer became quite irritated. Too bad - this is basic science.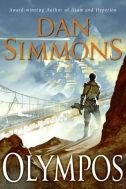 Simmons turned to Greek mythology for a two book Greek epic,
Ilium
and
Olympos
, which was also the first indication that Simmons might be overloading his brain with potential source material. Reading the back catalog is can be as tricky as it is inspiring for the working writer of fiction. Some novelists simply can't read anything else when they write - Simmons clearly doesn't fall in this category, occasionally to his detriment (Despite the author's picky tendency when it comes to who adapts his material, the folks behind the adaptation of Richard Matheson's
What Dreams May Come
have been associated with this
Homer/Nabokov/Proust inspired tale
). Simmons' 2007 return to the long form was
The Terror
, a mix of detailed history and total insanity that runs about 766 pages. Although Simmons' books are always thoroughly researched,
The Terror
represents the work of several theses. The book garnered some attention, but it's not a book you'll read in a weekend, let alone a month. His February 2009
Drood
follow-up sticks with historical speculative fiction, and concerns itself with the last years of Charles Dickens as he attempts to complete his final novel,
The Mystery of Edwin Drood
. Odds are Simmons will have better luck as he profiles an author whose writing
he doesn't care for
:
Dickens was not "a major influence" on me. As was true with E.M. Forster, I've always tended to be put off by Dickens's sensibilities, sentimentalities, and even his characters' names. But his life . . . ah, that's very interesting. Especially the last years after his involvement in a train wreck at Staplehurst where he experienced..."
This approach may not win fans among Dickens scholars, but he's no stranger to controversy, as his 2006 essay on the Iraq War,
"Message from a Time Traveler"
proved. As you can see from his leather jacket and
24
-style author photo, Simmons doesn't care what you think. It ain't bragging if you can back it up with a farcaster and a footnote.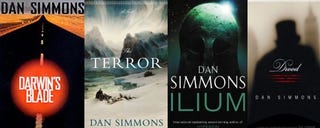 Simmons' latest SF release takes on the Bard last year for a spirited take on the space opera genre. Previously featured in
The New Space Opera
collection, novella
Muse of Fire
concerns a Shakespeare troupe on an interstellar tour, and more than anything else he's done, could be a Pixar film immediately. The novella is one of Simmons' best forms - in that venue, he's forced to simplify his big ideas, so this may be the idea way to lose your Simmons' cherry. Alternatively, if you'd rather try something a little more topical - and a lot cheaper - Simmons is serializing a story on his website,
"Watching the Presidential Debates in Elm Haven"
, between this month and the next. Check it out, and become obsessed.