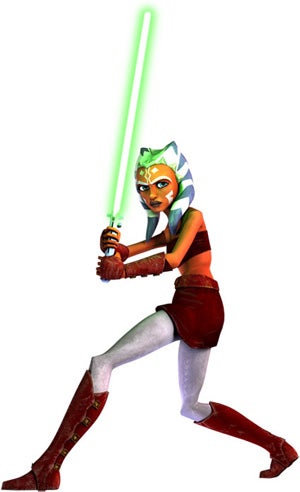 These continue to be brutal times for our television heroes — Last night's episodes of
Heroes
and
Chuck
both lost a million viewers
from the previous week's installments.
Terminator: The Sarah Connor Chronicles
saw a slight uptick, from
5.3 million
viewers to 5.6 million, but still came in fourth for its timeslot. What's the good news? Last Friday,
Sanctuary
and
Star Wars: Clone Wars
both bowed to impressive ratings — for cable TV, anyway.
Clone Wars
ranked as the most-watched premiere in the Cartoon Network's history
— which seems like a paltry achievement for the
Star Wars
franchise, until you realize quite how low expectations have been. The show garnered an impressive 3.9 million viewers, and came first in a whole bunch of demographics that only have one digit each. (Including "persons 2+".) It also scored among tweens and teens. Nobody over 18 watched it, judging from the Cartoon Network's press release. Maybe they were all watching
Sanctuary
? That show
launched
with 2.7 million viewers, better than the 1.8 million to 2 million that usually watch
Stargate Atlantis
on Friday nights, and the 2.1 million that were tuning in to
Battlestar Galactica
last spring. This was the highest rated series premiere since
Eureka
in 2006. In any case, I'm pretty sure
Sanctuary
was number one among adults aged 150-160. Of course, how many people will actually come back for more installments of
Clone Wars
and
Sanctuary
? Off the top of my head, I bet
Clone Wars
will hold pretty steady — what else do six year olds have to do on a Friday night? — but
Sanctuary
will probably drop to
Atlantis
-esque numbers, or worse, pretty quickly. The bigger moral, of course, is that
Clone Wars
and
Sanctuary
are hits with numbers that would get them canceled on a major network. So maybe the lesson is that cult science fiction shows belong on basic cable?