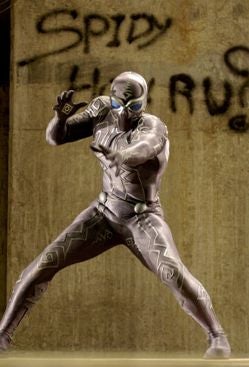 The Busan International Film Festival in South Korea wrapped yesterday, and everyone was buzzing about two major superhero flicks hitting Asian countries this winter. The sequel to 2003's
Cicak Man
from Malaysia will hit theaters in early December. And audiences eagerly anticipate
Jeon Woo Chi
, a Harry Potter superhero flick budgeted at $12 million. Want to get prepped for these movies early? We've got a crash course in Eastern superheroes for you, from Super Inframan to the Spider-man-inspired Mercury Man (
left
), and beyond.The Busan, South Korea film festival featured a retrospective on Asian superheros that included
Super Inframan
, a 1975 feature from China. Today it plays like Power Rangers, but the set design is tremendous:

In the eighties, the Asian superhero in cinema included a superheroine for the first time,
Darna
, and
Mr. India
did the Invisible Man trick.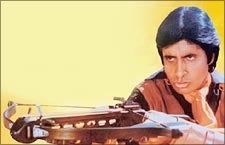 Superheroes increasingly came from working class backgrounds, surpassing whatever caste system kept them in place, and soaring above. (This year's Phillippines series
Captain Barbell
has that market cornered.) The 1980s also gave us the legendary double agent, magician/crossbow crimefighter, Toofan (
right
). Somewhere along the way Asian writers began to look back to older characters, including
Kamen Rider
, who made it the big screen in 2005 as the Masked Rider: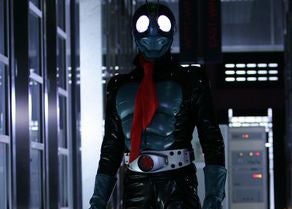 2006's
Mercury Man
was a more Western take, with a hero overtly modeled after Spiderman.
Mercury Man
is a Thai fighting Afghan terrorists for America, a concept that continues to make our brain explode. The Mumbai-born director Rakesh Roshan's
Krrish
project brought Bollywood and
Superman
together this year.
Krrish
is already the second sequel in the series, after
Kaho Naa…Pyaar Hai
and the
E.T.
-inspired
Koi… Mil Gaya
. It's doubtful this Superman-ripoff would have much crossover appeal, but perhaps the world is ready for a non-white
The Tick
who sings?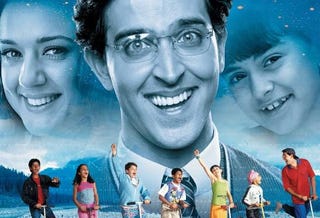 While 2006's
Krrish
was something of an artistic success and definitely scored with audiences, 2008's
Drona
(which opened wide at the beginning of October), is by all accounts a
dreadful superhero "epic,"
one described as Harry Potter meets Indiana Jones. Yikes. Better films are in sight, starting with the
Cicak Man
sequel,
Cicakman 2: Planet Hitam
, where the heroine's lizard powers will battle the Ginger Boys in a film with the original's comedic tone. The biggest project in Korea is
Jeon Woo Chi
. Director Dong-hun Choi helms this sci-fi fantasy epic that includes wizards. The film takes advantage of its setting's rich history — the story stretches all the way back to 1509. We were sold when we heard the protagonist referred to as "an undisciplined womanizing Taoist." A Harry Potter that does wire-fighting probably isn't the worst idea if you're a fan of making money. The Deepak Chopra superhero is coming as well:
Ramayan 3392 A.D.
is in development from
Master and Commander
scribe and
300
producer Mark Canton. Liquid, Mandalay team for 'Ramayan' [
Hollywood Reporter
]