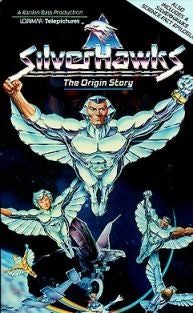 How can you not love a team of heroes introduced in a series premiere called, "The Origin Story" that features a conflict on the planet of Limbo? The first season of Lorimar's follow-up to
Thundercats
hits DVD tomorrow, and there's no time like the present to pick it up. Preserved in steel, "partly metal, partly real," the Silverhawks were gliding portents of our economic future — when viewed for what they stand for, of course.As a follow-up to the hit
Thundercats
and the accompanying bonanza in toy sales, Lorimar went ahead with
Silverhawks
. The campy style actually ages quite well, and the themes of economic regulation and corruption in the corporate sector, well, they resonate. J. Larry Carroll, the show's producer, later created the CBS procedural
Diagnosis Murder
, and penned a
Stargate
episode, "Hathnor". The show's interplanetary setting owes a lot to
The Silver Surfer
, and its unique world lends it just a little originality, most conspicuously in the vast assemblage of villains the heroes have to toy with. After they sacrificed their human bodies, the Silverhawks are under the grip of the bald, officious, and poorly voiced Commander Stargazer. Their primary nemesis was the devastating Mon*Star, commanded a ferocious army of signifiers referred to conspicuously as a "mob."

The evil Yes Man's villainy is pernicious and long term, and involves handing out loans and flying places on golden parachutes. Like Dick Cheney, Yes Man has a long and dangerous tail/penis. Mo-Lec-U-Lar and Windhammer are the titans of energy, wild, but mightily powerful.


The irony is that the series itself was an expression of capitalist desire, trying to capitalize on a trend while it was still hot. And out of all such gestures of greed, good may yet rise: You can find parts two and three of the pilot
here
and
here
.