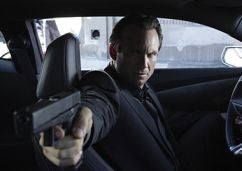 My favorite episode in the 10-year run of Alfred Hitchcock's famous anthology series,
Alfred Hitchcock Presents
, is "The Case of Mr. Pelham." It concerns a man being stalked by a person who he believes to be his double. By turns frightening and utterly insane, the drama builds with just a few sets and actors. And that's what I was dreaming of as I viewed the new NBC Christian Slater vehicle,
My Own Worst Enemy
. Click on to explore Hitchcock's masterpiece and our review of tomorrow night's pilot.
Click to view
Premiering tomorrow night on NBC and available right now on iTunes,
My Own Worst Enemy
is a hard show to recommend. Set at A.J. Sun Consulting (who no doubt have an office located right next to Massive Dynamic somewhere in TV land), Slater's two personalities - Henry Spivey and Edward Albright - are managed by a crack team including Alfre Woodard, comedian Mike O'Malley, and
Wing Commander
's Safron Burrows. Slater's Henry-Edward combo may not be that far away from Robert Louis Stevenson's original story
The Strange Case of Dr. Jekyll and Mr. Hyde
in terms of name and concept, but the pilot captured nothing of the frightening prospect of Stevenson's struggle against losing ourself to evil. The main problem so far is that the two characters aren't even all that different. The distinctions consist primarily of their respective automobile's country of origin - everything else, including the relative beauty and attitude of their sexual partners, is in line. It's frustrating to see no evidence of the supposedly mean and snarly version of 39 year old Slater, although surely we'll be able to tell the difference between them other than by how much Slater is squinting, right?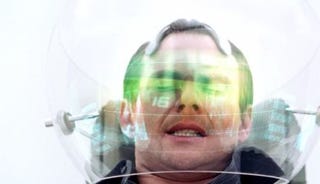 There's no telling exactly what audience the Slater version is courting;
My Own Worst Enemy
is somewhere between the last soul-killing season of
24
and
Mission Impossible
, only without the budget for awesome face-mimicking masks. The visual composition of the show is really its only appeal, so expect the show's action elements to try to win viewers with big 'splosions while the little details get lost.