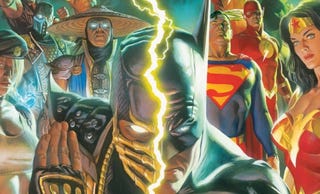 It had to happen — all the hype about
Mortal Kombat vs. DC Universe
has given Batman a splitting headache. Or maybe it's just a visual metaphor for the clash of the two franchises in the cover art for the "Kollector's Edition" of the much anticipated upcoming game. The full image, and more details, under the jump.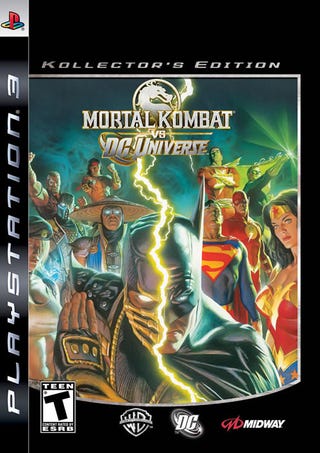 The cover for this special North American-only version of the game — which will also include a print of the artwork and "exclusive video content" — was created by fan-favorite comic book artist Alex Ross, painter of
Marvels
and
Kingdom Come
. Kotaku
has video of Ross creating the cover
, giving you the chance to be impressed and confused by his method (Seriously, why does he do everything in black ink first if he's just going to paint over it anyway?). Alternatively, you can just spend as much time as we have nitpicking what's going on with the DC heroes' outfits — What's going on with Green Lantern's shoulder padding? What's with the Flash's armbands? Is that the post-
Flash: Rebirth
costume (in which case, which Flash
is
that?)? In case you're as anal as we are about these things,
Comic Book Resources are reporting
that DC will publish a tie-in comic that leads into the game's release, as created by
Mortal Kombat
co-creator John Tobias.
Crisis On Infinite Modes
, anyone?