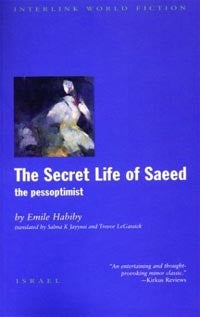 Back in the 1970s, Palestinians were using science fiction to solve their geopolitical problems.
The Secret Life of Saeed: The Pessoptimist
is a 1972 novel written by Palestinian writer Emile Habibi. There aren't many Palestinian novels in the Western canon, nor many that use elements of science fiction, so we're hard-pressed to understand why
The Secret Life of Saeed
isn't taught in schools from here to Tel Aviv. Visit an extraordinary life after the jump.
Emile Habibi
was born in Haifa in 1922. He grew up in a Protestant family and was immediately an outsider in the world he would occupy his entire life. When Habibi was born, Israel was ruled by the British Mandate, and during his stay in the country, he'd deal with more than one power that claimed rule over him.
The Pessoptimist
tells his story from space, where he's been taken by extraterrestrials, and where it is easier to deal with the problem of his entire life. As a youth, Habibi was involved in the political movement against the British, and when Israel won the War of 1948, he didn't go into exile — he stayed in the place he was from. Habibi founded the Israeli Communist Party, but he was far from a hard-liner. He was a member of the Israeli Knesset, their acting legislative body, for almost 20 years ending in 1972. Habibi didn't start writing fiction until he was in his fifties. His first novel
Saraya, the Ogre's Daughter: A Palestinian Fairy Tale
verged more on light fantasy, and was translated for the first time in 2006. The fact that Habibi came to writing late in his life means there isn't much unpolished work out there from him — it is all delicately informed by the life he lived.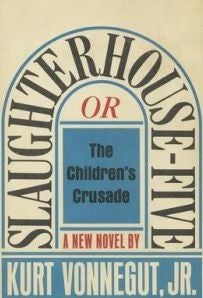 Then came Habibi's masterwork,
The Secret Life of Saeed: The Pessoptimist
. Habibi's partly autobiographical novel about an Israeli Arab who finds himself in space is every bit the equal of
The Little Prince
or
Slaughterhouse Five
. Patterned after Voltaire's
Candide
, the writing is at least as sharp, and the lessons of the Israeli desert are if anything more worthwhile. Habibi's alter-ego is a constant victim of fate. He cannot truly become an Israeli because he is an Arab, and he cannot truly become an Arab because he is an Israeli. When things are that silly, anything's possible:

One of the major features of this trippy odyssey is the humor. More reminiscent of Douglas Adams than anything, what happens to Saeed introduces the concept of resigned irony to the Palestinian plight, a method of cultural expression that transcends nationality. Saeed isn't a fighter, and his loyalties aren't what drive him — it's his family and self-preservation instinct that pushes him onwards in a landscape that makes little objective sense. As a nonbeliever and an authentic Palestinian, he spoke from a place that both sides had to respect — here that place is literally out in space. Habibi accepted the Israel Prize in 1992 for his body of work, a recognition that emphasizes how important his work is to the literature of both sides of the conflict. Stepping back from the vantage point of space, the difference between Arab and Israeli seems very small. And that's Saeed's joke - in remembering what exactly happened to him, he can barely see the difference either. This is perhaps why his final allegiance was only to place, the place that he was born, not the culture he was born into. A man from Haifa went all the way to space and back again.
The Secret Life of Saeed
[via Amazon]