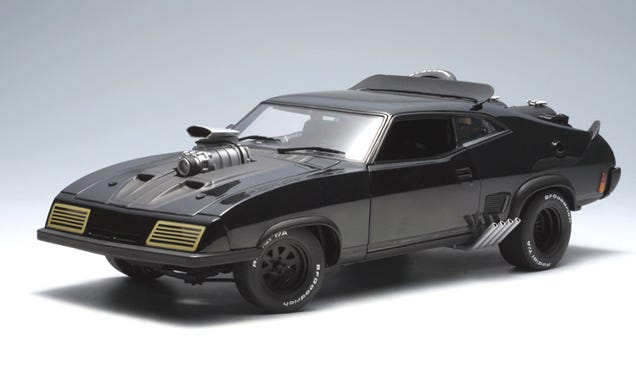 Have you dreamed of firing up your "Black on Black" Interceptor, tossing back a handful of Dinki Di dog food, and driving off to combat post-apocalyptic terrorists and feral children? Then AUTOart has just the thing for you (assuming you're about four inches tall, that is). Their 1:18 scale die cast replica of Mad Max's heavily modified Ford Falcon Coupe includes everything you need: machetes, massive "guzzolene" tanks, faithful companion Dog, and a tire on a chain. You'll have to provide your own apocalypse, though.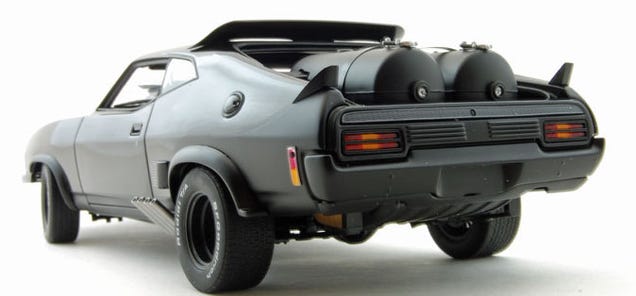 The Interceptor is one seriously bad-ass looking ride, with that massive supercharger, aggressive stance and that paint scheme - who knew there were so many different shades of black? And yes, it really does come with a replica Dog and some Dink Di dog food.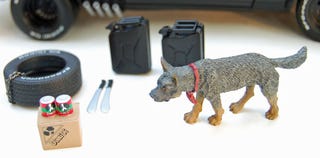 The only drawback is the cleanliness of the car. It's intended to replicate the version from Mad Max 2 (note the cut-off front spoiler and the rear deck fuel tanks), but in the movie, the car was dusty, dirty and beat to hell. This model is a bit too shiny. Experienced hobbyists can easily add some mud and a bit of weathering, but you might be hesitant to mark up a
$140 collector's item
like this. Although it's still a lot cheaper than
creating your own full-size Interceptor replica
.
Images by: AUTOart.
"1/18th-scale Mad Max 2 Interceptor." [Hemmings Muscle Machines, Nov. 2008]