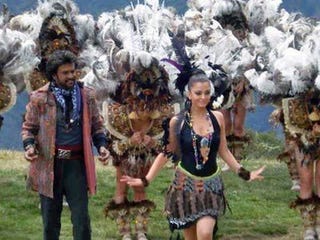 Two Indian science fiction films are roaring forward. First of all, the legendary director Shankar has started filming his movie
Enthiram
, formerly known as
Robot
, with some big song-and-dance numbers in America. Here's the first look at star Aishwarya Rai Bachchan, done up like a Vegas showgirl and dancing with a ton of feathered people and emus. More pictures below, plus details about another classic in the making and a possible Bollywood superhero crossover.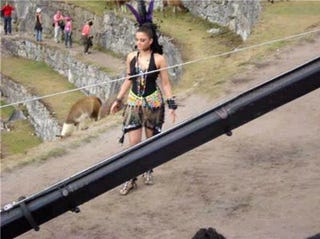 How does this awesomely bizarre-looking sequence relate to the movie's plot, about a robot that goes haywire and starts killing? We don't know.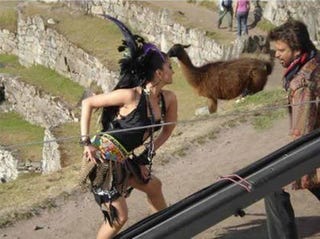 At the same time, Shahrukh Khan (SRK) has found a title for
his Spider-Man-esque adventure
:
Ra.1
. SRK was supposed to star in
Enthiram
and produce the robot film, but he ditched it to create his own scifi epic, because he felt
Enthiram
wasn't believable enough. SRK is "taking a keen interest" in the scripting of
Ra.1
, and may get a writing credit on the film. And meanwhile, Aishwarya's husband Abishek Bachchan, starring in the new superhero film
Drona
, wants his character and mega superhero
Krrish
to meet up in a crossover film. "It would be great to have the two of them together in a film. I'm sure the fans would love it," says Abishek.
Krrish
is the most famous Indian superhero of all time, and frequently compared to an Indian Superman. We celebrated it, and featured a clip,
here
. [
Bollywood Gossip
and
Zimbio
and
APunkachoice
]